Alma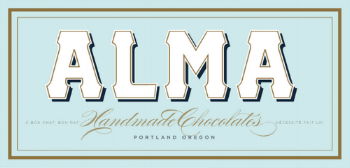 Alma (al ' ma)
1. n. - Soul (from the Spanish)
2. v. - To nourish (from the Latin) 

Chocolate has long been associated with passion and love, and touted for its aphrodisiac and medicinal properties. Its Latin name, Theobroma, means "food of the Gods." Alma Chocolate uses fresh ingredients to make chocolate you can believe in. For their handcrafted confections, they use real vanilla, fresh herbs, and organic butter and cream, with no preservatives or artificial flavors. No two batches of their exquisite chocolates and candies are exactly alike — they are as individual and unique as the people who enjoy them. Inspired by the legion of talented growers and makers in the Pacific NW, Alma collaborates with and sources from their friends and neighbors as often as possible. They may not be able to grow cacao in Oregon, but there is just about everything else, and their origins at the Farmers Market still form the ingredients and community spirit they embrace today.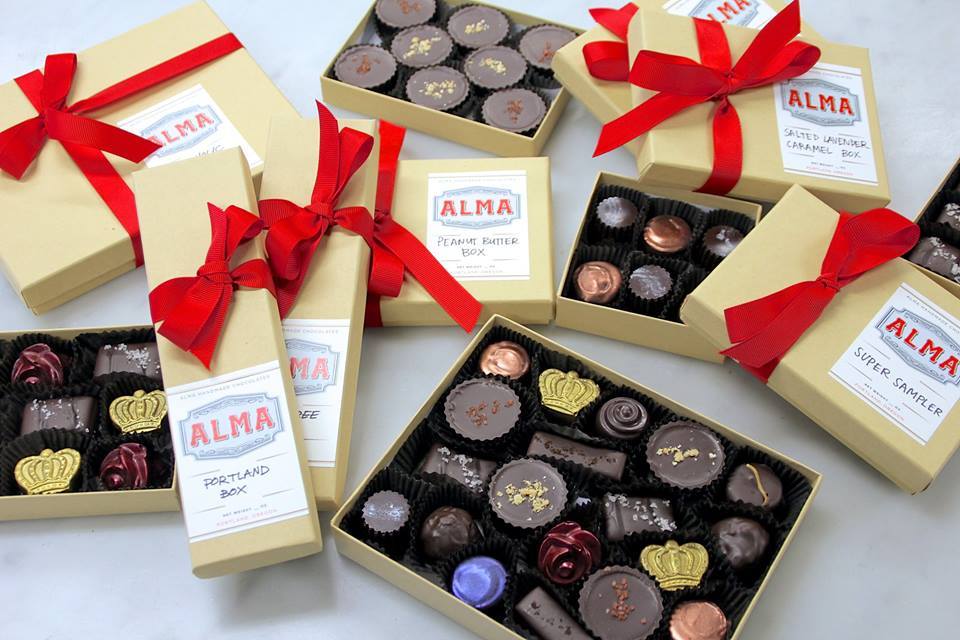 CHOCOLATE
Honoring the Food of the Gods: divine confections, gorgeous in flavor, quality and integrity. Alma has been called an innovator in flavor, but what they strive to do is coax out and balance the flavors of cacao with organic cream, butter, sugar, nuts, and fresh herbs and spices - not to mask or overpower them. Part of being a confectioner, too, is using chocolate that is grown, traded, and finished with care and intention. Alma knows that certifications can be costly, and sometimes lack transparency, which is why their house chocolate is an organic single estate that they have personally researched and feel good about. They would never use a chocolate that didn't align with their core values, and work hard to choose accordingly. Alma is thrilled to be recognized as one of the nation's top small batch chocolatiers' but as they have grown, so have their offerings. From an award winning baking program to rich, organic ice creams available by subscription, an espresso and drinking chocolate bar, Alma has evolved to reflect all the things they are passionate about.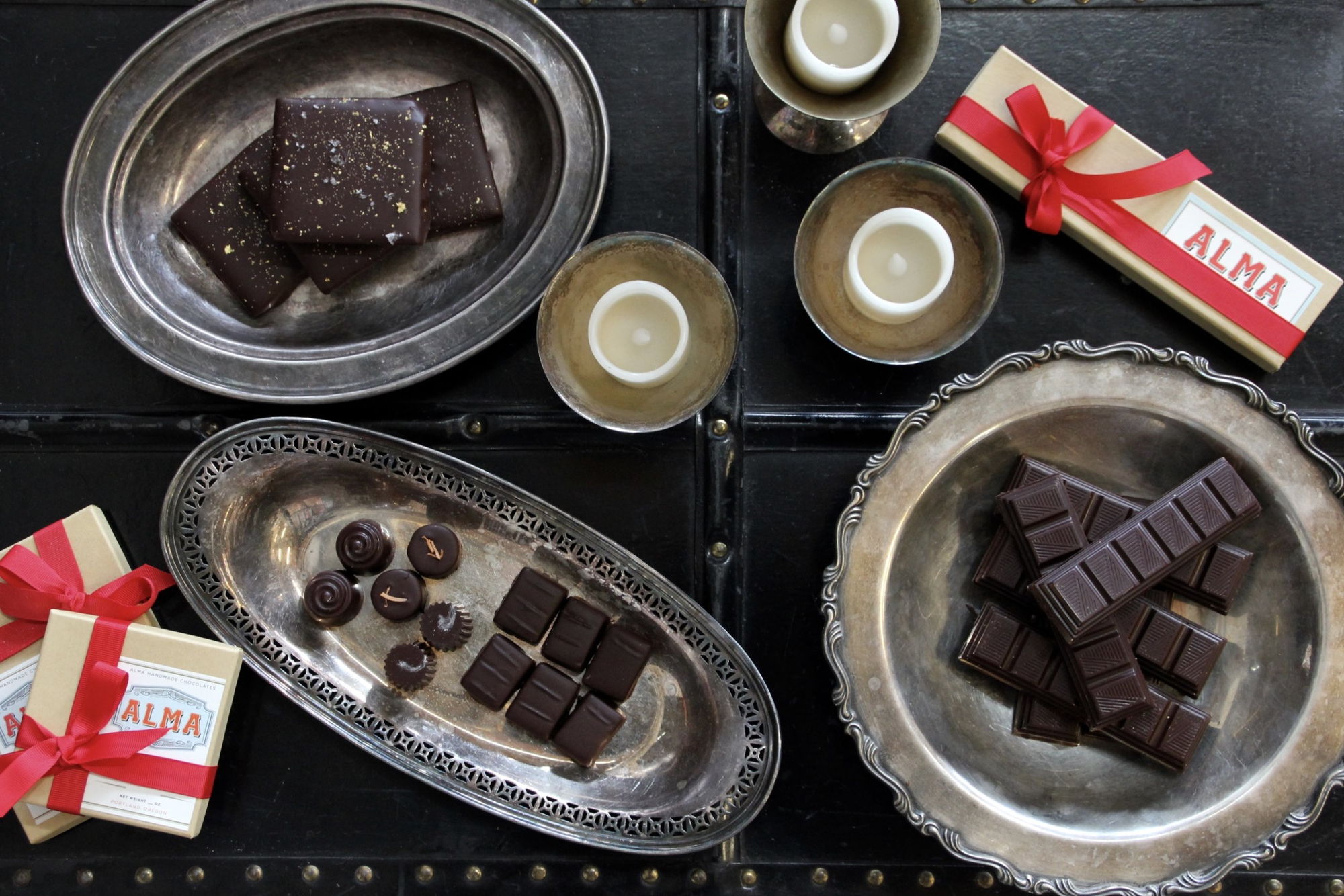 FOUNDER
In 2004, Sarah Hart wondered why so many chocolate easter bunnies were so awful. The chocolate was waxy, the designs so tacky. Why not make something worthy? In 2005, Sarah started playing with chocolate recipes, creating iconic molds and hand-gilding them in edible gold leaf. She perfected these treats the hard way, through trial and error. When she discovered that Alma, her grandmother's name— meant soul in Spanish and nourish in Latin, she  knew she had one divinely edible concept. Wanting to take it to the next level, she found an instructor to come to her home; Ian Titterton taught Sarah what he knew about chocolate. When Sarah's kitchen became too small to keep up with orders, she began selling at the Farmer's Market, where she still keeps a booth on Saturdays. In 2006, Alma Chocolate opened a retail storefront and quickly garnished waves of media attention, critical accolades and a devoted fan following. In 2008, Hart was named "The Rising Star" in The Next Generation Chocolatier Awards (the James Beard awards of the chocolate industry). She staged at Valrhona in France and kept growing the chocolate line and the shop's offerings. She now manages a small staff of talented chocolatiers, bakers and baristas who have helped grow Alma's offerings to include small batch ice-creams, chocolatey drinks, espressos and choco-centric baked goods.
 

LOCATIONS
Portland, OR Shops: Alma NE: 140 NE 28th Ave, Alma SE: 1323 SE 7th Ave
Hours: 11-6pm Monday-Saturday, 12-5pm Sunday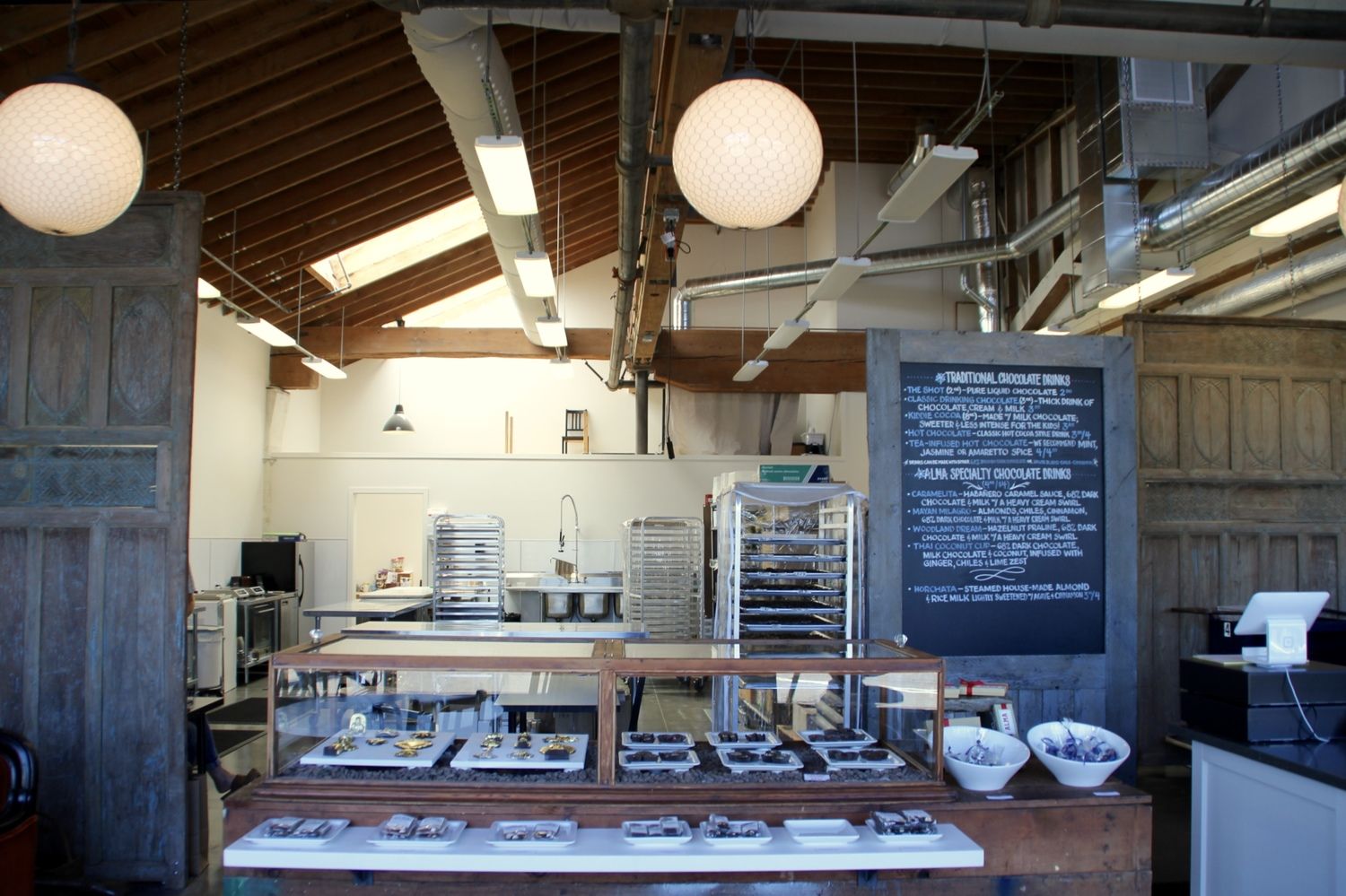 ACCOLADES & ASSOCIATIONS
2017 Good Food Awards Winner
Chocolate Pistachio Toffee - Confections
The Good Food Awards celebrate the kind of food we all want to eat: tasty, authentic and responsibly produced. They grant awards to outstanding American food producers and the farmers who provide their ingredients. These recipients push their industries towards craftsmanship and sustainability while enhancing our agricultural landscape and building strong communities. Chosen from 2,000+ entrants, Good Food Award Winners lead the way towards a tasty, authentic and responsible food system. These companies are creating vibrant, delicious, sustainable local food economies.
Good Food Merchants Guild
Member
The Guild unites American Good Food & Beverage producers. Growing from the wonderful folks who participate in the Good Food Awards, the Guild connects producers with sellers, enabling information sharing, joint marketing and acts as a bridge to other organizations seeking to support Good Food businesses. Membership in the Good Food Guild is open to both retailers and craft food and beverage businesses, in the industries that the Good Food Awards works with and beyond to include all traditional American craft food traditions, from butter to cookies to crackers, meat, cider and more.