Butcher's Bunches

Butcher's Bunches began on a vine, or on a tree, laden with plump, naturally sweet fruits just waiting to be plucked and preserved. Most of the time they add no sugar at all, but when they do, it's just a whisper of Muscavado or the sugar that is part of a fine blended ingredient. Butcher's Bunches never, ever uses sugar substitutes. Their handcrafted jams and preserves are definitely not just for toast – not that there's anything wrong with that. Enjoy them on pancakes and waffles, in pastries or spread over cheesecake, swirled into yogurt or fruit compotes, spooned over ice cream, with cheese and pate, or straight from the jar!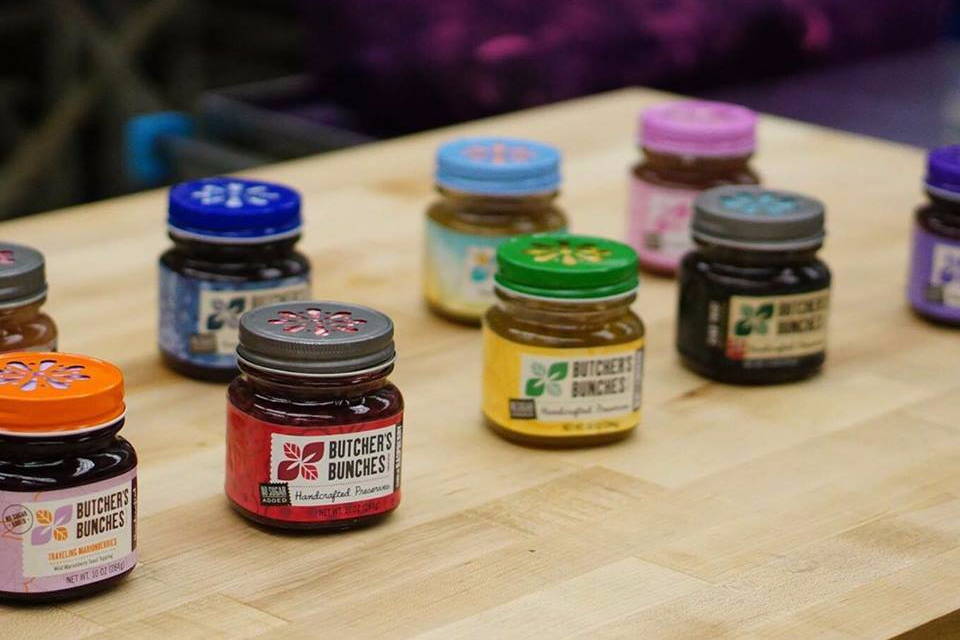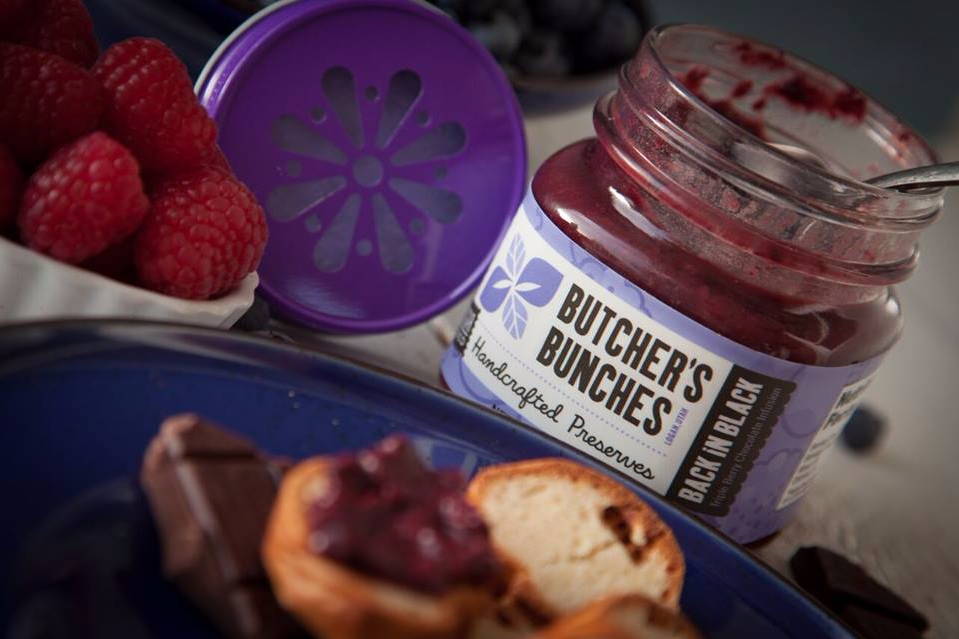 Their Commitment
Butcher's Bunches of Logan, Utah is committed to preserving the roots of their community.
Founded by Liz Kennard Butcher (pictured far right), the company supports farmers who grow sustainably, follow traditional family recipes, and embrace America's diverse cultural harmony. American pioneers grew and gathered food, preserved it over open flame, while exploring the foundation of their country; they were the first class to know the value of preserving the roots of their land.
Butcher's Bunches handcrafts preserves in that same fashion, respecting their roots and heritage. They use the same tin/aluminum pots, over flame, and each batch is stirred, poured and labelled by hand. Please enjoy the true taste of what their farmers work so hard to give them. It is not diluted by sugars, artificial sweeteners, artificial preservatives, or other harmful ingredients.
Their Inspiration
Meet Kenneth Butcher, the owner of Butcher's Bunches. Kenneth was born with abilities that are different than most people. Kenneth cannot have sugars, artificial preservatives, none of that fake "stuff" you find in products nowadays. This means; corn syrup, Aspartame, Neotame, Saccharin (and others), dyes, "pear juice concentrate." What is in that pear juice concentrate? You got it. Corn syrup, sugar and a few pears.
So, they have always adapted their recipes for him. When the recession hit in 2007-2009 they used the beautiful produce they grow to make "real" jams that everyone could eat, taking them to their local farmers' market instead of produce.
They were an instant hit and here they are many years later thanking Kenneth for inspiring them to think outside the jar, and helping their family business spread good health, joy, information and love to all of you. Help them spread that love a little further!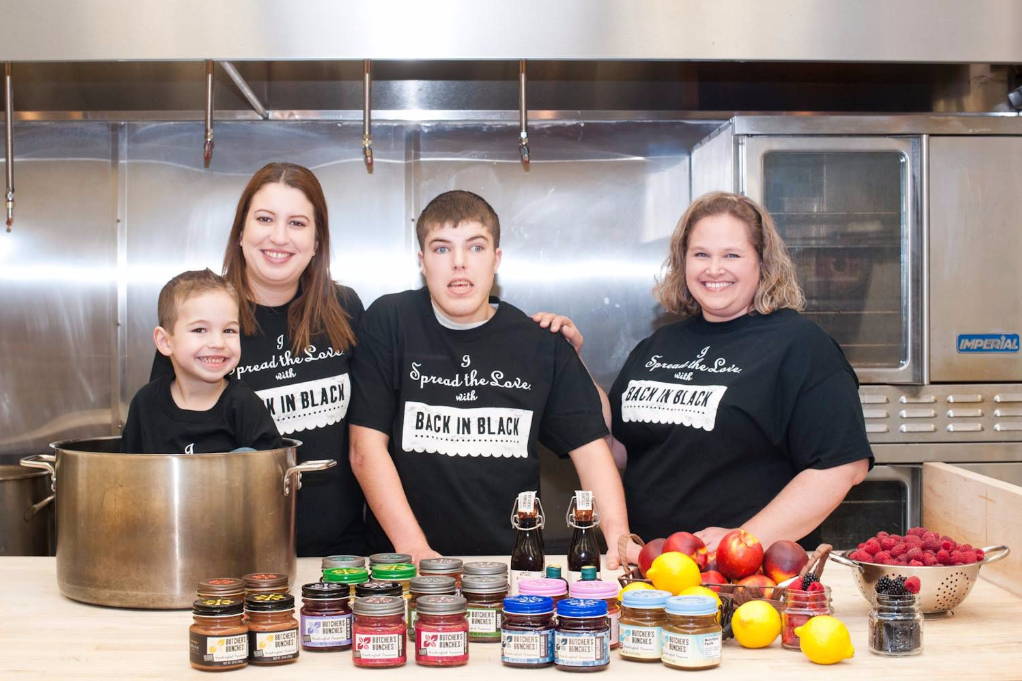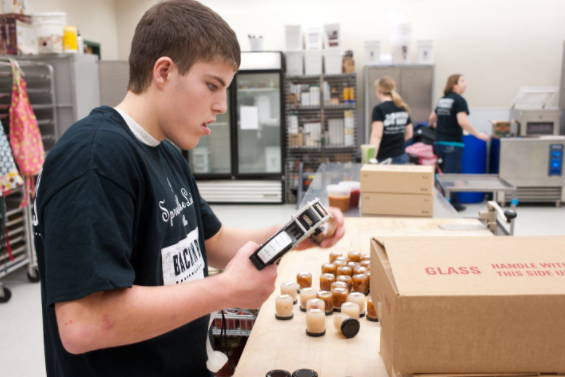 What motivated the company to start?
Butcher's Bunches started in 2001 at the Cache Valley Farmers market as a produce stand. The Butcher family grew "bunches" of wonderful produce and sold it for years, cultivating heirloom tomatoes and wonderful peppers, corn, okra, cotton, and a myriad of other wonderful fresh fruits and vegetables for the people of Cache Valley, Utah to purchase. The entire family would work the garden each year (a few acres) and grew to love and appreciate what the earth gave them. Kenneth's mother Liz would often find their youngest kids in the garden eating onions, melons, tomatoes, broccoli and whatever was ripe-fresh from the dirt. It made her smile to watch her kids eat onions like apples.
In 2007-08, the recession hit, and the family lost a lot of land, income and had to do what they could with what was on hand. Many others in the community did too, and like the Butcher family, people started growing backyard gardens. In effect, they stopped buying produce from them; they had their own. As a mom, Liz had to think fast; how does she replace that income, literally overnight? She decided to use what they were still growing, albeit in smaller quantities, and make jams and preserves to sell at the market. Liz also had a part time job as a pastry chef and had been canning at home for years and this seemed a natural step.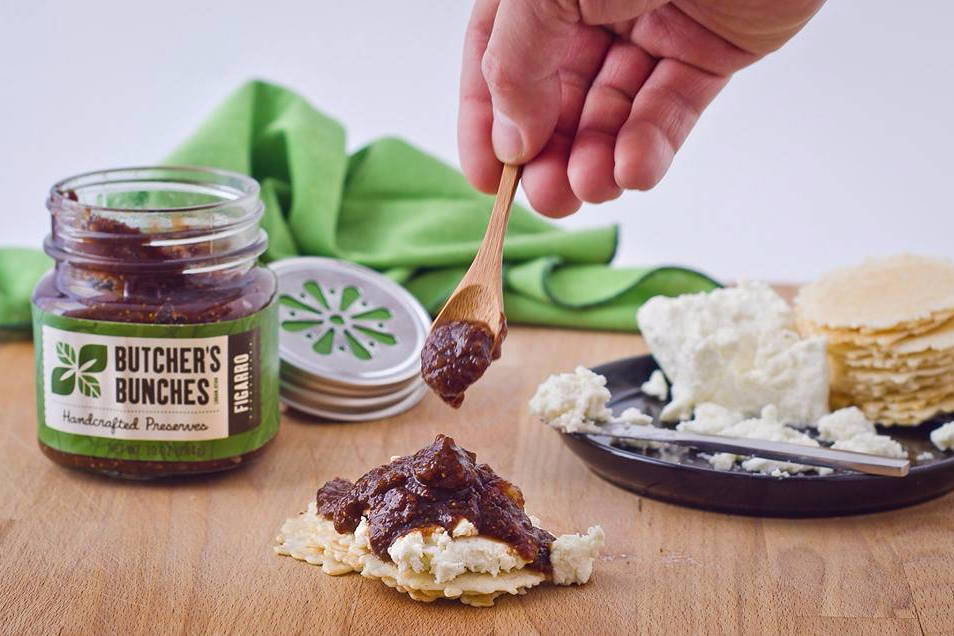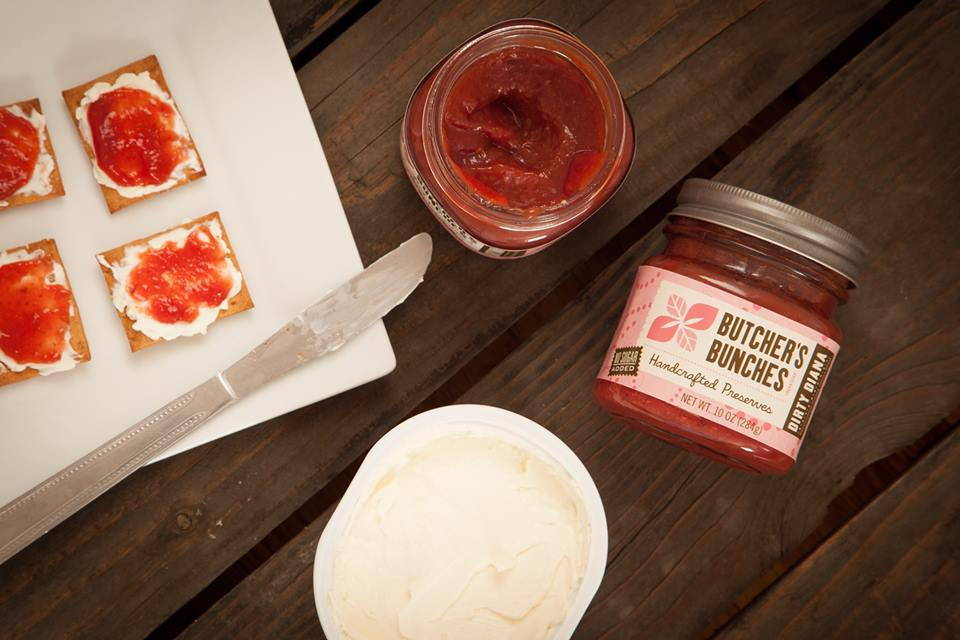 What makes Butcher's Bunches special?
What makes Butcher's Bunches special is what defined them as a company. While Kenneth's mother Liz had been canning for years at home, she changed her recipes for their youngest son Kenneth. Kenneth was born with special abilities that 95% of the world does not have. He is autistic, and has many other "labels" that have created dietary and other needs that they have adapted their entire lives to live around. One thing they try to do is eat foods without sugar. So, when canning and making preserves, Butcher's Bunches always eliminates the use of sugars, artificial preservatives, and artificial sweeteners.
Liz did this with the jams she made to take to market and a whole new brand was born, that no one had seen on the market before. There are many "Sugar Free" and "Low Sugar" jams available, but they always have sugar substitutes, corn syrup or some other form of sweetener in them. Butcher's Bunches quickly found out that sugar free only meant "another type of sweetener" which did not help Kenneth in any way, or any person looking for a pure fruit preserve. Their products are truly just fruit and no added sugars, no artificial preservatives or sweeteners (in any form.) You can read and RECOGNIZE every ingredient on their labels and any sugar on the nutrition facts comes directly from the fruit.
Kenneth now owns what was a farmer's market business (in trust), and the Butcher family hopes to create a future for him in an uncertain world that they admittedly stumbled onto by complete luck. They are a family run business to this day and dad, mom, sisters, Kenneth, and even their grandson now all spend time in the kitchen helping complete the Butcher Bunch to spread the love of real fruit in their little jars.