Cannizzaro Sauces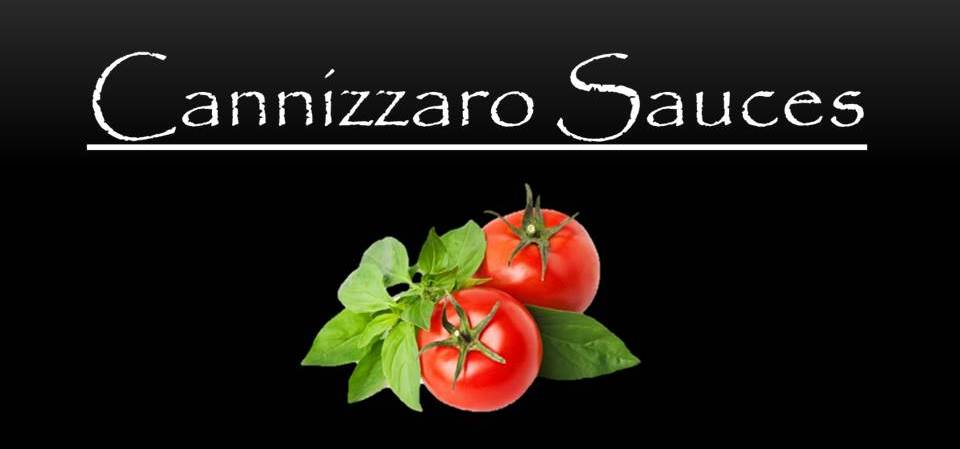 Using only the freshest ingredients and combining them with a lot of hard work and love, Cannizzaro sauces come alive at your dinner table. Handcrafted in Charlotte, North Carolina, Cannizzaro produces a Marinara, Mushroom Marinara, Vodka and an Arrabbiata sauce, that take the old world authentic Italian traditions directly to your kitchen.
STORY

Melanie Cannizzaro-Tritten and her husband Andy decided it was time to share their marinara sauce with the world, not just friends and family who have been enjoying it for years. Born in Rochester, NY, Melanie's Italian heritage and culinary expertise brought her to making her famed marinara and a family of enjoyable and healthy recipes and sauces as well.
Melanie had been making sauce for almost 20 years and as many Italian's know – making way too much! Andy would get home and say "what are you doing with all this sauce?"! They would give it to the neighbors, family, friends, etc. Then, people would start asking for it – when are you making sauce again?
Melanie and Andy decided they could maybe give it a try and go to farmers markets on the weekends or something selling the sauce. 2+ years later, over 100 stores, 3 states, and it is still so much fun for them. They still make every batch, chop every vegetable, core, seed & skin the tomatoes; everything! They are even growing all of the herbs this year in their extended garden, and have a farmer about 20 miles away growing tomatoes for Cannizzaro.
Cannizzaro makes all of the sauce themselves and use fresh ingredients. Just one taste and you will absolutely be able to tell the difference. They find such an incredible difference using fresh basil & oregano, and the flavor you get from those big red fresh tomatoes. Cannizzaro also doesn't use any sugar in their process – they use freshly grated carrots as a natural sweetener to combat the acidity of the tomatoes.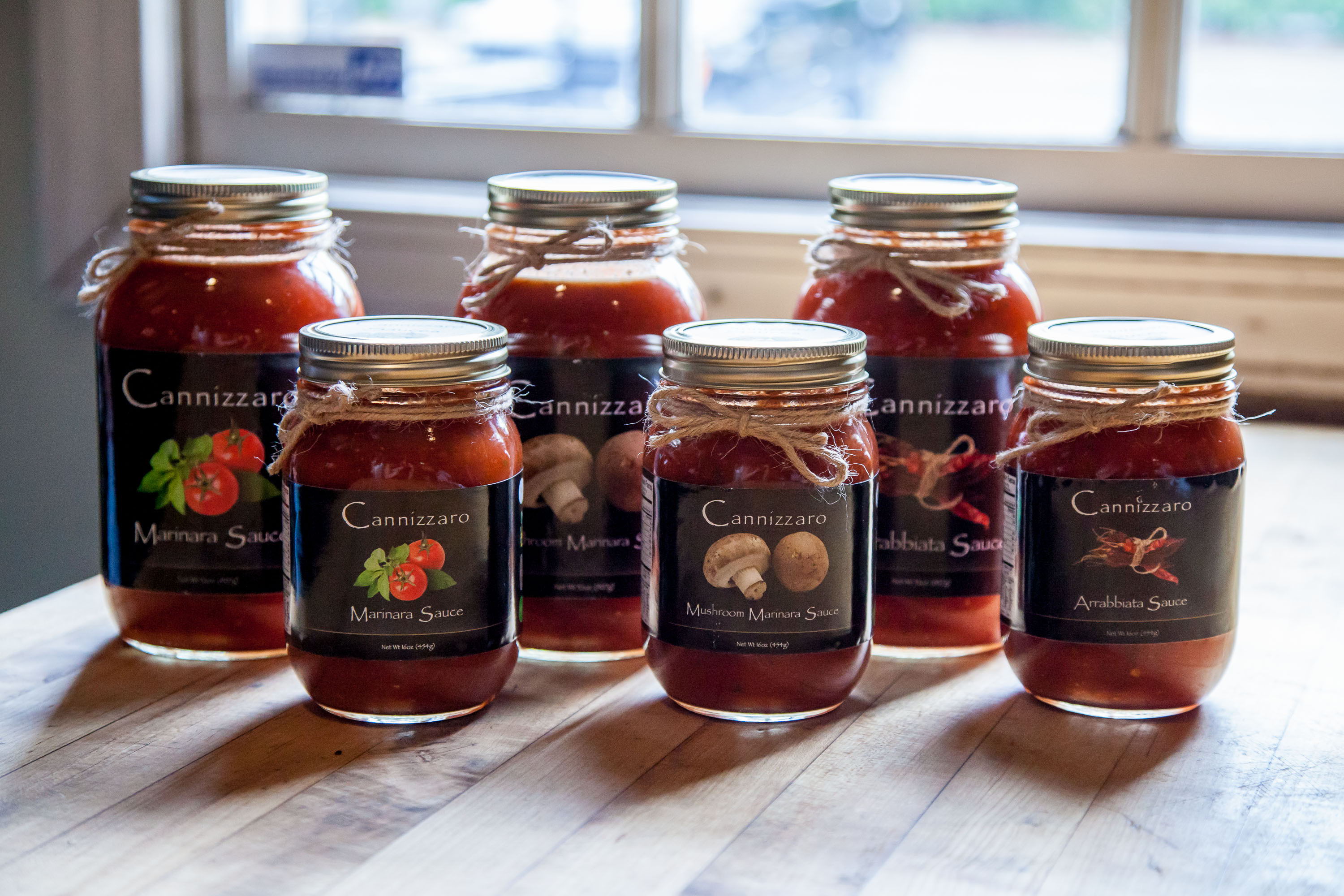 Cannizzaro Marinara Sauce is made and bottled by hand with lots of love! Made from Fresh, Local Tomatoes when available and is naturally gluten free and has no sugar added. Great on pastas, in lasagna, or just with bread for dipping! Ingredients: Fresh Ripe Tomatoes, Crushed Ripe Tomatoes, Fresh Chopped Onions, White Wine, Parmesan Reggiano, Extra Virgin Olive Oil, Tomato Paste, Shredded Fresh Carrots, Fresh Basil, Fresh Oregano, Fresh Garlic, Sea Salt, Fresh Squeezed Lemon Juice and Love.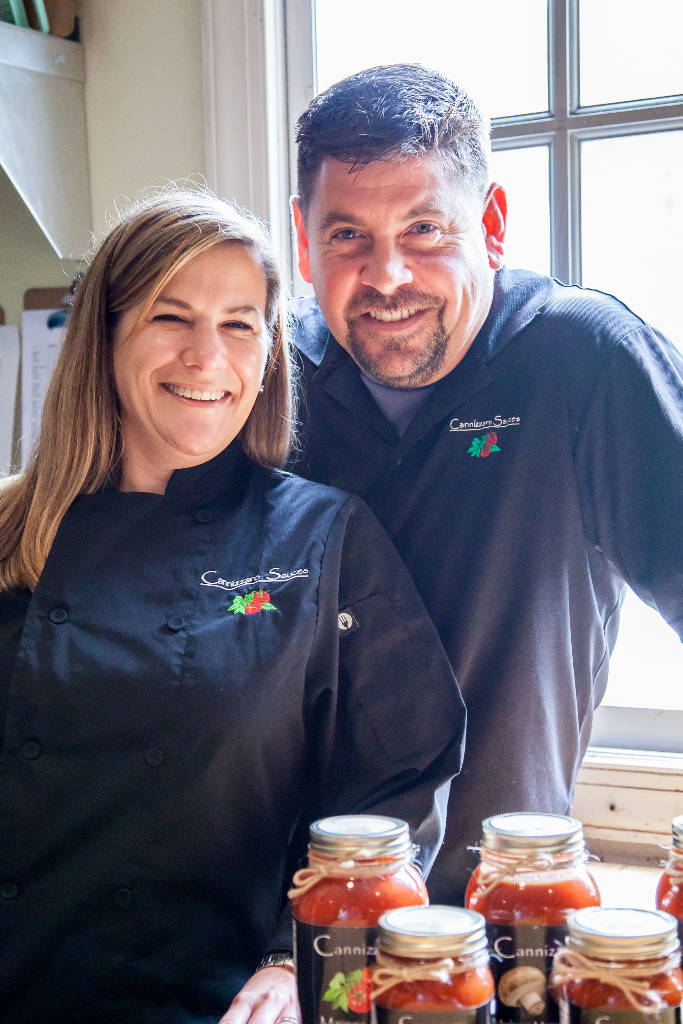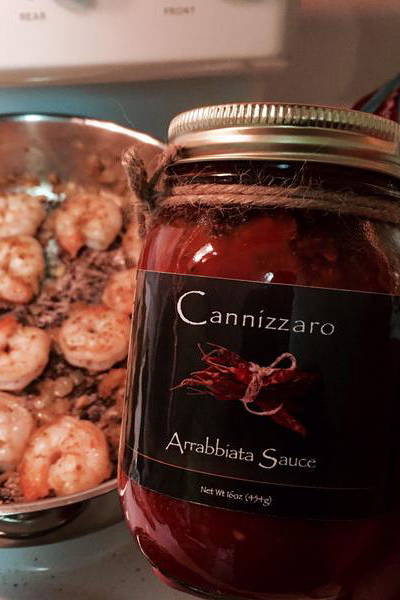 What People say about them
"We got the Mushroom Marinara through the Produce Box...Great Sauce added some clams over a bed of linguini...a great dinner..Sauce is perfect..and this comes from a Sicilian-Calabrese Italian."
Jim L
~~~~~~~~~~~~~~~~
"Delicious homemade sauce, love it! My favorite is the new mushroom but they are all yummy. Perfect for a quick home made dinner for a busy family or a great addition to a fun creation. I also love that it's made with local ingredients and as home made as it will get."
Xhenis T
~~~~~~~~~~~~~~~~~
"Stumbled upon the sauces @ the Charlotte Regional Farmers Market, took home a jar of each. The freshness is unparalleled. The fresh herbs are evident. Well balanced great sauces. The Arrabbiata is my favorite. Discovered that the sauces are sold in pasta provisions. Match made in heaven."
James L