Eat This

Eat This is family-owned and operated in beautiful Bucks County, Erwinna, PA. Their focus is on all-natural, sustainable, locally-produced jams, marmalades, and a few other things. At Eat This, they believe that using simple wholesome ingredients is the key to producing quality products. The meaning behind their company name is a statement to emphasize that all products are made from organic and/or natural ingredients without any artificial flavorings or preservatives.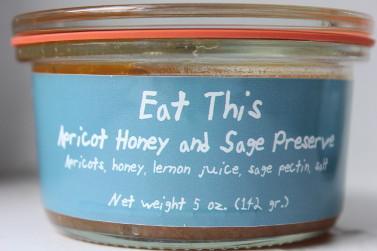 STORY
Eat This jams and marmalades have a distinct culinary flair that sets them apart from others. Blackberry and Rosemary, Orange Saffron Cardamom, Apricot Lavender Vanilla. Tomato Jalapeño. Chef Gino De Schrijver, creator of Eat This, has a passion for combining unexpected flavors and herbs with fruits of all kinds. "I like working with ingredients that are rare, and fruits that have short seasons or intense, unique flavors," said Gino referring to some of the seasonal jams he creates with less common fruits such as gooseberries and wild beach plums. The last batch of Eat This beach plums were hand picked by Gino while visiting a friend "out east" on Long Island. The personal approach that Gino brings to Eat This is evident throughout his process. He tastes each and every batch of jam and marmalade, making small adjustments to ensure the balance of flavors is just right. Starting with the most important ingredient, the fruit.
"You never pick pears ripe, and it's important that you wait until they are just ripe enough before you begin cooking them," said Gino. His precision and passion for flavor is the secret to creating customer favorites like Spiced Caramel Pear jam. Sourcing as much fruit as possible locally, Gino has a collaborative relationship with many small growers and farmers in and around Bucks County, Pennsylvania where Eat This makes its home. One farmer even experimented with planting beach plums 75 miles inland to see if he could provide a steady harvest a few years down the road. Another foraged for wild wineberries so Gino could create a small batch of this juicier, less well known relative of the raspberry.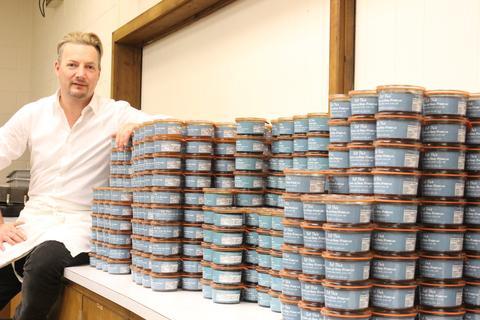 Gino De Schrijver - Founder, Head Chef
Gino comes by his love of food and local ingredients naturally. He grew up in Belgium and Ireland, and learned the value of naturally healthy food.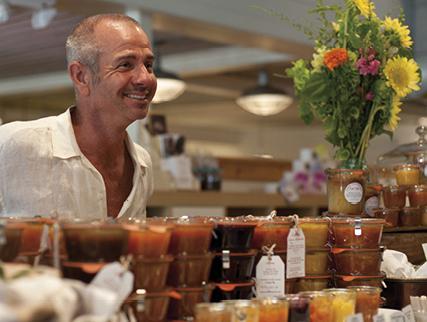 David Borgert - Flavor Muse
David enjoys counseling customers on flavor profiles and menu ideas.
GIVING BACK
Community is an important part of the mission behind Eat This. In fact, it was vital to the very start of the company. Shortly after moving to the small town of Erwinna, Pennsylvania, Gino attended a spaghetti dinner at the Delaware Valley Volunteer Fire Company just around the corner from his home. "We went to a dinner at the local firehouse, and it just clicked. I knew I wanted to become a part of the community so I signed up to become a volunteer fireman," said Gino.
After a year of training, he was an active volunteer fireman. A few years later while looking for a commercial kitchen, Gino realized the firehouse had just what he needed — and he could start his company while giving back to the community at the same time. Since the beginning, 5% of Eat This revenues have supported the Delaware Valley Volunteer Fire Company. And each and every batch of jam and marmalade (and a few other things) have come from its  kitchen.
 
While Eat This got its start close to home, and is still found at local farmer's markets, the line is sold today at retail stores around the country. Gino still enjoys working at farmer's markets so he can visit with his customers and share his ideas for how to use Eat This jams and marmalades. "It's not just jam. It's great on toast, but our jams and marmalades are perfect to dress a salad, to glaze a chicken, to serve with cheese — even accent a glass of champagne," said Gino. As a chef, he finds it rewarding to encourage customers to create unexpected culinary experiences of their own. It's just another way he gives back.
FAQs
How do I open the jar? 
As shown in the video above, just pull the orange tab straight out towards you (not up or down). Once opened, remove orange rubber gasket. Glass lid fits snug on jar for storage in refrigerator. 
Why is it absolutely necessary to remove the spring clamps after the processed jars have cooled down? 
After processing, the spring action of the clamps is replaced by the natural force exerted on the vacuum inside the jar from the pressure of the air outside the jar. If you were to leave the spring clamps on the jar, you would not, by trying to lift off the lid, be able to test whether the jar was properly processed and sealed or not. This simple, but extremely important seal-test (the "lid-lifting" test) cannot be performed when using jars with a thread type, a wire-bail type of closure or any other mechanical sealing devices.
Is there any other reason why WECK does not produce home-canning jars with mechanical sealing devices? 
Yes, and it's a reason of utmost importance: your personal safety. In case the contents of a jar should spoil for any reason, the gases formed by spoilage inside the jar must be free to push up the lid so that it lies loosely on top of the jar. This warning signal is so clear and strikingly plain that it is best suited to protect you and your family from the dangers of consuming spoiled canned food unknowingly. For this extremely important reason of personal safety, a reason which is still more important than the practical ones mentioned above, WECK has consistently refused to produce jars with mechanical wire bail seals for home-canning purposes. In case of spoilage, these mechanical seals cannot produce the strikingly clear warning signal of the loose lid.
What is the difference between jelly, jam, preserves, marmalade, and conserve? 
Jelly is made from fruit juice, sugar and often pectin. Jam is a thick puree mixture of fruit, sugar and often pectin. Preserves and conserve are jams with chunks of fruit. Marmalade is similar to preserves but contain citrus fruit rind.
Why does Eat This add sugar? Are there any jams with a sugar substitute? 
The main function of sugar is to work with the pectin and fruit acids to form the gel structure of jam and to preserve the color and inhibit the growth of mold. Eat This does not currently have non-sugar jams because they believe they cannot replicate the quality of their recipes into a non-sugar format.