Fort Point


Fort Point Beer Company is a New American brewery - the product of a thriving American craft beer culture, shaped by deeply San Franciscan values: quality craftsmanship and a spirit of innovation.
Fort Point creates balanced, thoughtful beers that reference traditional styles but are by no means bound to them. For them, brewing is the confluence of creative expression and refined technique. They want their beers to tell a story, inspire an idea, and be thoroughly enjoyable.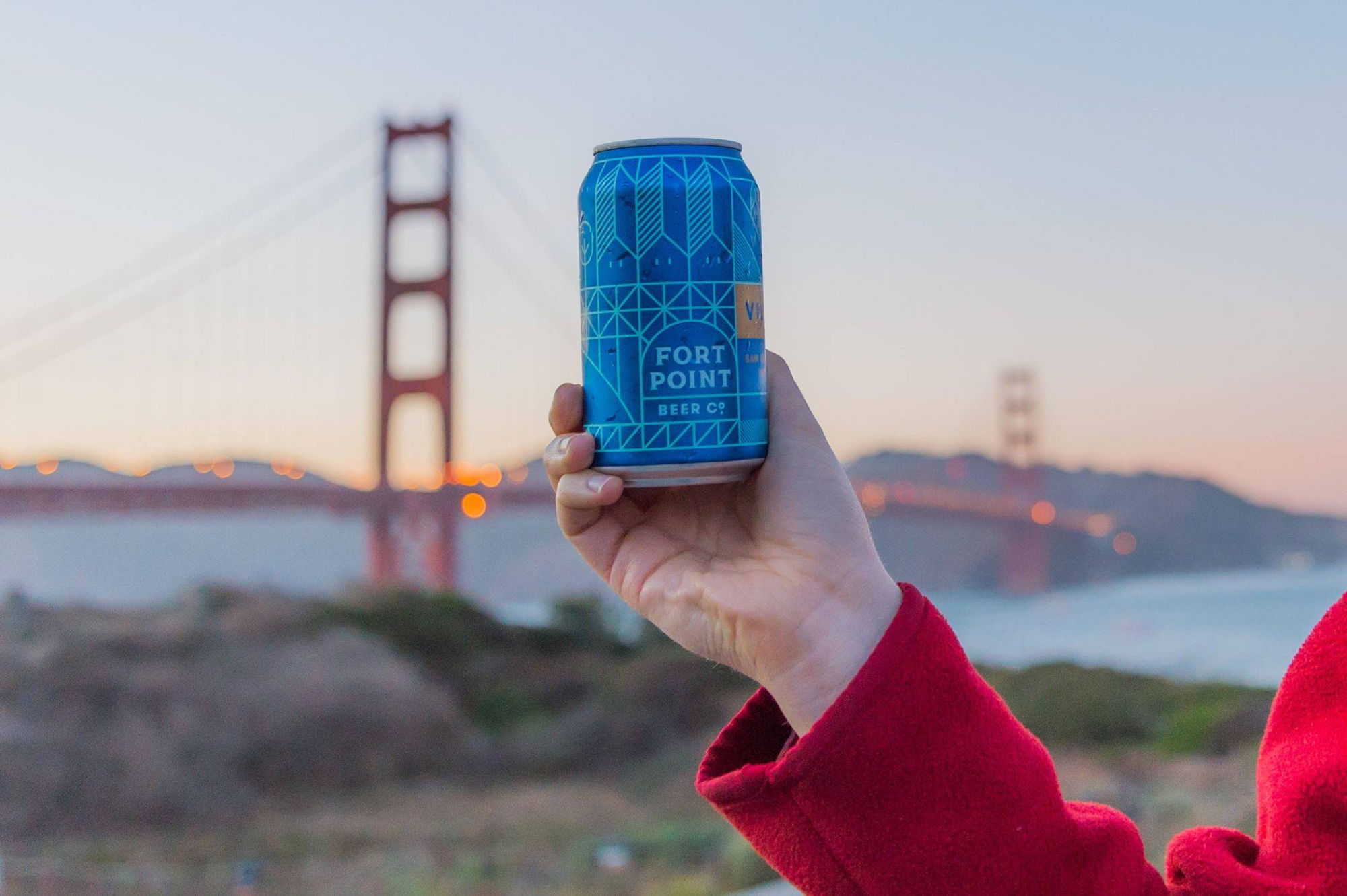 FORT POINT KIOSK
Fort Point's North Arcade kiosk in San Francisco's Ferry Building marks the company's first retail location, an opportunity for customers to enjoy brewery-fresh beer onsite or packaged to take home. Fort Point is excited to offer pints in the kiosk's attached beer garden, along with locally sourced hot dogs and pretzels. In addition to the tasting bar onsite, the space focuses on filling 64oz growlers of year-round and limited release styles, delivered daily from the brewery.

LOCATION
San Francisco Ferry Building
1 Ferry Building - North Arcade Shop #54
San Francisco, CA 94111

HOURS
Monday-Friday 11am - 8pm
Saturday 10am - 8pm
Sunday 11am - 6pm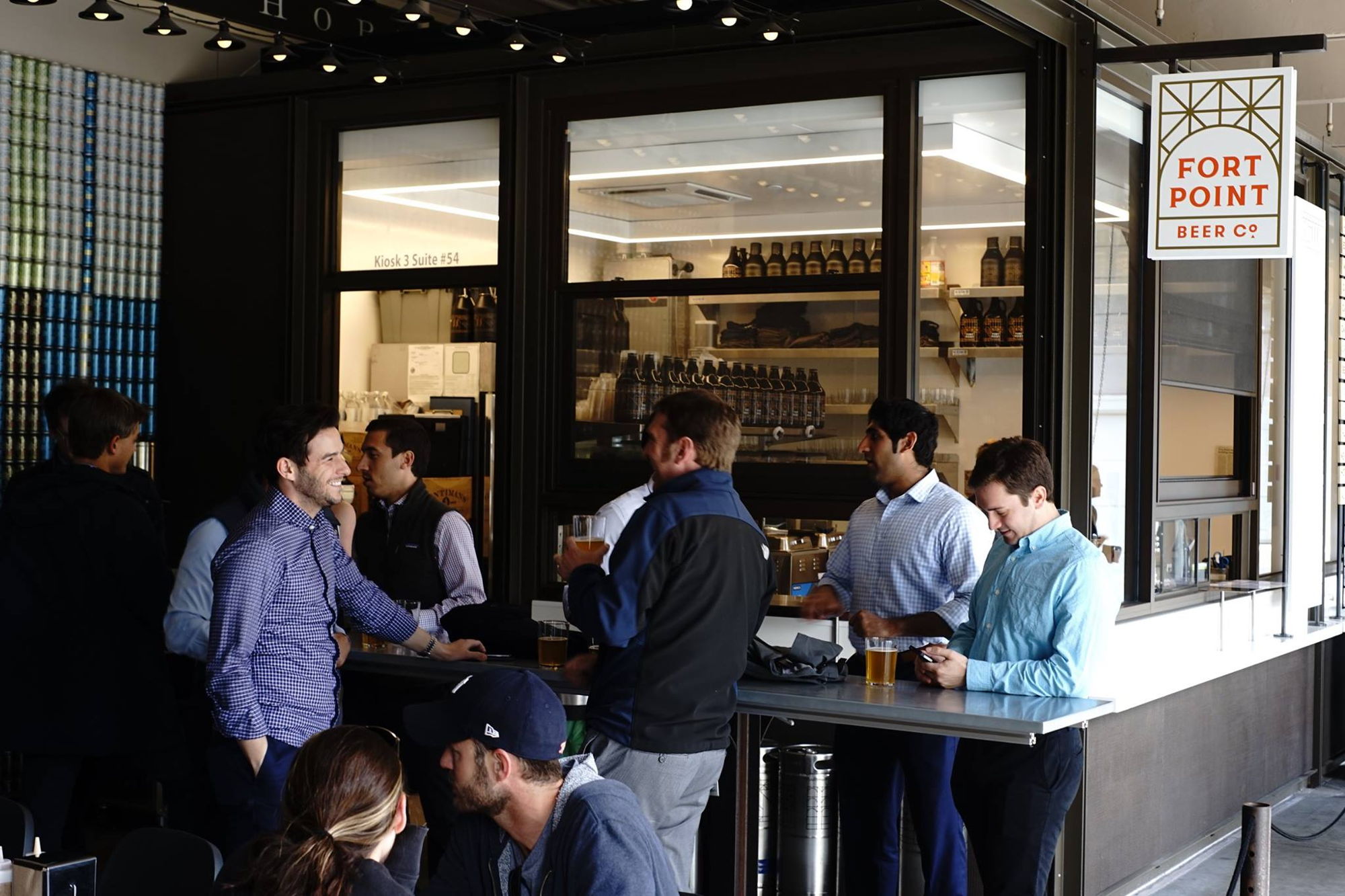 FOUNDERS
Fort Point Beer Company was founded in 2014 by brothers Tyler (pictured right below) and Justin Catalana (pictured left below) in the Presidio of San Francisco. The brewery resides in an historic Presidio building that was formerly used as an Army motor pool. Being situated in this iconic landscape reinforces their pride in San Francisco and in the beer they brew.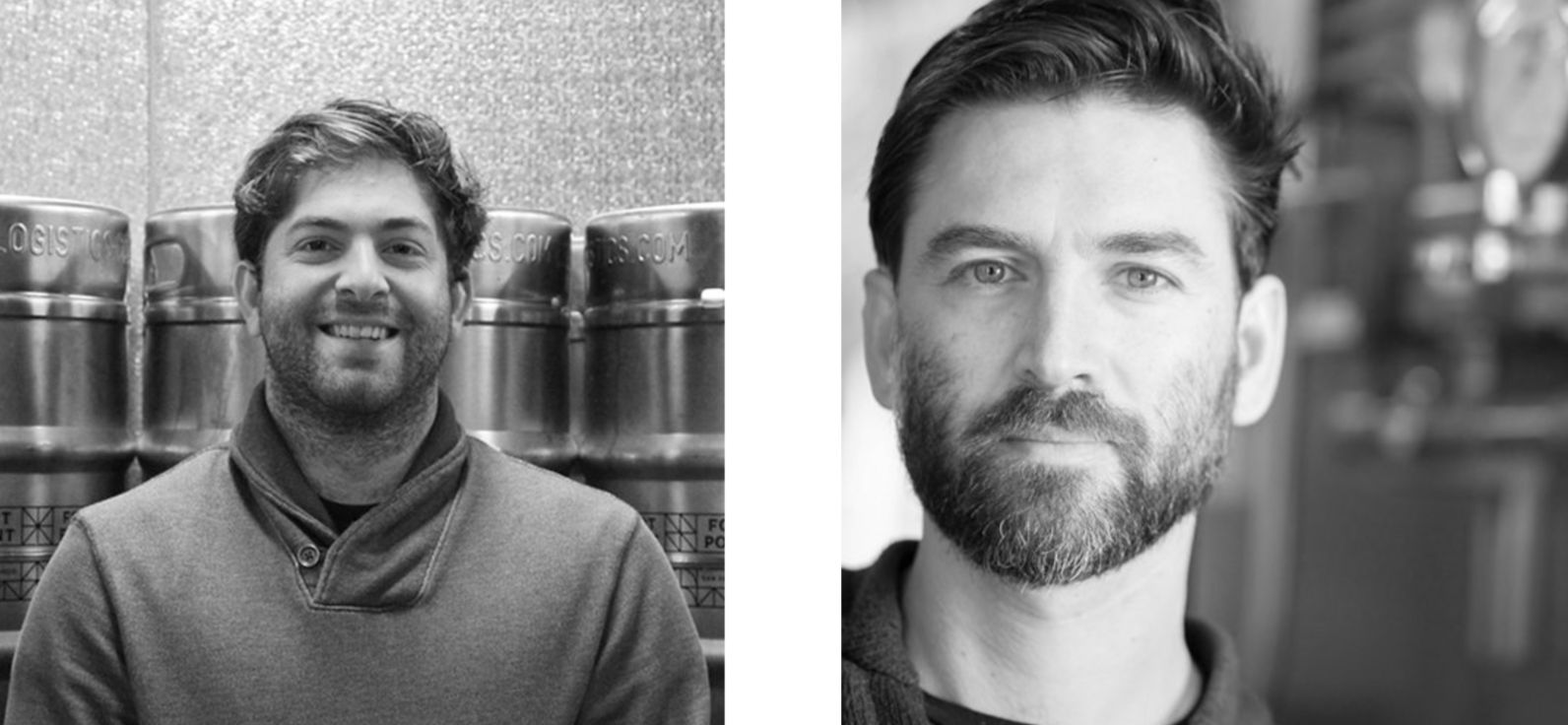 SMALL BATCH BREWING
KSA, Park, Villager and Westfalia make up Fort Point's core beers. In addition to these, they brew one-offs, seasonals and collaborations throughout the year.
KSA
LIGHT & CRISP KOLSCH STYLE ALE
HOPS: WARRIOR, SAPHIR
GRAINS: BOHEMIAN PILSNER, PALE WHEAT, MUNICH, VIENNA
ABV: 4.6%
IBUS: 17
KSA combines a thoughtful mixture of American bittering hops and traditional German malts to create a complex yet crisp take on the Kölsch style. Munich and Vienna malts construct the beer's robust, rich grain flavor, while Saphir and Warrior hops bring balance through a clean finish. KSA's old-school style, blended with bright, updated ingredients, makes this beer a classic on both continents.
Westfalia
NUREMBURG RED ALE
HOPS: HALLERTAU
GRAINS: BOHEMIAN PILSNER, VIENNA, CHOCOLATE, CARAFOAM
ABV: 5.6%
IBUS: 16
Westfalia packs rich, caramel flavors into a rounded, mahogany body through a colorful blend of creamy malts. Traditionally fermented at cooler temperatures, Westfalia's rotbier style showcases a layered malt profile that creates a smooth, satisfying mouthfeel, perfect for any meal or enjoyed on its own. Inspired by a trip to Nuremberg, Germany, Westfalia imports an exemplary red ale to audiences closer to home.
Park
REFRESHING & HOPPY WHEAT BEER
HOPS: CITRA
GRAINS: BOHEMIAN PILSNER, PALE WHEAT, OATS, ACIDULATED
ABV: 4.7%
IBUS: 19
A uniquely aromatic and refreshing beer, Park blends pilsner malt and pale wheat with Citra hops to create a modern interpretation on the witbier style. Bière de garde yeast elevate Park's tart, grapefruit flavors, yielding a fresh yet dry finish to this single hopped design. Park's pale sunshine color and clean flavor make this the perfect beer to enjoy on a picnic blanket or around the campfire.
Villager
SAN FRANCISCO IPA
HOPS: JARRYLO, WARRIOR, CENTENNIAL
GRAINS: PILSNER, 2-ROW,TORRIFIED WHEAT, MUNICH, VIENNA
ABV: 6.3%
IBUS: 42
In the San Francisco spirit of innovation, Villager blends classic Northwest hops with contemporary ale yeast to establish a delicately constructed IPA. Villager's hop aroma is both citrusy and floral, complemented by notes of stone fruit and tropical flavor in the finish. A true expression of the cultural contrasts that embody our city by the bay, Villager brings a new twist to this West Coast style.
Manzanita
COLLABORATION WITH FREIGEIST
HOPS: SAPHIR
GRAINS: BEECHWOOD SMOKED, BOHEMIAN PILSNER, MUNICH, CARAFA
ABV: 6.5%
IBUS: 16
Manzanita is a deep ruby colored ale with strikingly complex campfire smoke and firewood aromas. Beechwood smoked malt contributes an upfront roastiness while charred manzanita branches add hints of perfume and a slightly tannic woody finish.
Treble Hook
RYE PALE ALE
HOPS: MERIDIAN, HALLERTAU BLANC, POLARIS, ELLA
GRAINS: BOHEMIAN PILSNER, MARIS OTTER, RYE, VIENNA, CARAFA SPECIAL I
ABV: 5.5%
IBUS: 34
Treble Hook blends spicy, earthy grain flavors with a fruity, floral finish, creating an elegantly balanced beer and a fresh interpretation on the rye pale ale. Pilsner, Maris Otter and Rye malts construct Treble Hook's sturdy grain bill while Polaris, Hallertau Blanc and Ella hops cultivate a zesty, mint inspired burst in the mid-palate. Treble Hook's smooth, caramel color and dry, tangy character make this beer a tasty addition to any dinner table or enjoyed at the end of the dock.
Professor
SEASONAL IPA
HOPS: WARRIOR, MANDARINA, BAVARIA, EL DORADO, AMARILLO, HALLERTAU BLANC,
GRAINS: TWO ROW, PILSNER, VIENNA, WHEAT, ACIDULATED
ABV: 6.0%
IBUS: 60
Harnessing the unique flavors of Mandarina Bavaria and Hallertau Blanc hops, Professor makes a splash as a citrus forward IPA, juicy and creamy with a touch of fresh, floral high tones. A study on creative hop combinations, Professor charts a new course for the West Coast IPA, balancing bitterness and hop aroma with zesty drinkability. Professor's limited edition release and bright yet bold character make this seasonal beer the life of the party.
Wanderer
DOUBLE IPA
HOPS: EXPERIMENTAL 07270, WARRIOR, SIMCOE, EQUINOX, SUMMER
GRAINS: TWO ROW, PALE WHEAT, GOLDEN NAKED OATS, ACIDULATED
ABV: 8.2%
IBUS: 80
Musky and tropical, Wanderer pairs fresh hop overtones with sticky pineapple flavors, creating a bold yet elegant Double IPA. Sweet mango and papaya are balanced with juicy orange, wrapped up in a dank, herbaceous hop aroma. Fresh, slick and fruit-forward, Wanderer braves the storm with its fearless combination of zesty flavors.
Squirrel
INDIA PALE ALE
HOPS: LEMONDROP, MOSAIC
GRAINS: GOLDEN PROMISE, PALE WHEAT
ABV: 5.3%
IBUS: 35
A careful combination of zesty Lemondrop and juicy Mosaic hops, Squirrel creates an intense and memorable aroma; this little animal is anything but diminutive. A mild, honeyed malt character keeps the hops center stage with complex notes of lemon zest, mango, and fresh pine. Aromatic and refreshing, you'll be ready to spring forward with Squirrel.
St. Francis 12
COLLABORATION WITH DE STRUISE
HOPS: HALLERTAUER HERSBRUCKER, NORTHERN BREWER, STYRIAN GOLDINGS
GRAINS: PILSNER, PALE, DARK CANDI SUGAR
ABV: 10.3%
IBUS: 28
The aroma is a subtle mix of brown malty, fruity and toasted nuttyness with whiffs of Belgian yeast. The flavor profile is complex, comprising loads of caramel malt, molasses, licorice, and dark, dried fruits (raisins, dates and prunes). Candied pecans and modestly funky yeast make appearances. There are also darker subtle flavors such as coffee and chocolate. The mouthfeel is big and firm.
Pi Five
COLLABORATION WITH PI BAR
HOPS: HALLERTAU BLANC, GLACIER
GRAINS: BOHEMIAN PILSNER, BELGIAN AROMATIC, TORRIFIED WHEAT, RYE, ACIDULATED
ABV: 8.3%
IBUS: 24
Pi Five has a subtle Belgian yeast aroma built around white peach, pineapple, and white flowers. Peach flavors persist from start to finish and are balanced by a mild rye spiciness. In designing the beer, we wanted a smooth, creamy body to complement the floral Hallertau Blanc. Torrified wheat helps to provide this smoothness, while also contributing a fluffy white head. The beer finishes slightly tart, with lingering fruit and pithy bitterness.
Native
INDIA PALE ALE
HOPS: NJ-007, SIMCOE, COMET
GRAINS: MARIS OTTER, MUNICH II, CARAWHEAT, CARAPILS
ABV: 6.5%
IBUS: 60
With thick flavors of wood, resin and wet forest, Native stands tall as a bold and distinctive IPA. Comet, Simcoe and experimental NJ-007 hops lend a tropical aroma and sticky bitterness, while Maris Otter, Munich and Carawheat deliver a soft, crisp finish. An homage to the majestic forests that dene our local landscape, Native brings a fresh, forward take on a landmark style.
Animal
TROPICAL MODERN IPA
HOPS: CENTENNIAL, AMARILLO, MERIDIAN, ELLA, TOPAZ
GRAINS: PEARL, BOHEMIAN PILSNER, ACIDULATED
ABV: 7.0%
IBUS: 54
This is a big, wild and aromatic IPA. Amarillo and Meridian hops give the beer a sticky orange mid-palate that's balanced with a classic IPA bitterness from an early addition of Centennial. All of this wild hop action sits on top of a fairly simple malt bill. We use a blend of winter-grown Pearl and Pilsner malts to create a light and delicately sweet foundation.
Summer Porter
A SUMMER PORTER
HOPS: EAST KENT GOLDINGS, ELLA
GRAINS: MARIS OTTER, DOUBLE ROASTED CRYSTAL, CARAFA SPECIAL II, CHOCOLATE
ABV: 4.0%
IBUS: 20
Summer Porter is a fresh reinvention of the perfect San Francisco summer beer. Light and daring, this beer is as thirst-quenching as an ice-cold cola, yet seamlessly ties in roasty fudge and molasses to take the edge off of any foggy outdoor rendezvous.
Lobos
EXPERIMENTAL IPA COLLABORATION WITH MIKKELLER
HOPS: CENTENNIAL, CHINOOK, NORTHERN BREWER, SORACHI ACE
GRAINS: BOHEMIAN PILSNER, MUNICH, PALE WHEAT, ACIDULATED, CARAMEL 60
ABV: 7.3%
IBUS: 95
Lobos is an experimental Double IPA with a slick malt backbone and thorough resinous hop bitterness. Its contrarian dry hop addition of Sorachi Ace adds highlights of lemongrass to an already foresty hop profile.
Tosca
COLLABORATION WITH TOSCA CAFE
HOPS: MOTUEKA, CENTENNIAL
GRAINS: BOHEMIAN PILSNER, MARIS OTTER
ABV: 4.5%
IBUS: 15
Brewed for April Bloomfield's San Francisco restaurant, this beer was created with food pairing in mind. This light kölsch-style ale is brewed with yerba santa, a fragrant shrub native to Mt. Tamalpais. This unique addition contributes a delicate spearmint and honey dew melon flavor that sits neatly in the background.
Moon Phase
BOURBON BARREL-AGED QUADRUPEL ALE
HOPS: MERIDIAN, STERLING, HUELL MELON
GRAINS: BOHEMIAN PILSNER, VIENNA, SPECIAL B, PUFFED RED RICE, DARK BELGIAN CANDI SUGAR
ABV: 13.0%
IBUS: 30
A unique reflection of old-world Belgian Quadrupel ales, Moon Phase shines brightly full of bourbon and charred oak. Notes of gingersnap, toasted almond and toffee elevate Moon Phase's smooth alcohol warmth and fade into a gentle, sustained finish. A delicate blend of smoky Buffalo Trace and Smooth Ambler Rye bourbon flavors, Moon Phase's complexity rises with every sip.
Resonance
BLENDED SAISON
HOPS: VIC SECRET
GRAINS: BOHEMIAN PILSNER, PALE WHEAT, CARAFOAM, ACIDULATED
ABV: 6.5%
IBUS: 25
Bright, rustic and complex, Resonance is an elegant symphony of flavor and aroma. Juicy notes of tropical fruit billow across the palate, balanced by a tart, dry effervescence in the finish. A unique interpretation on the classic saison style, Resonance strikes a chord with its innovative technique and bright, fresh flavors.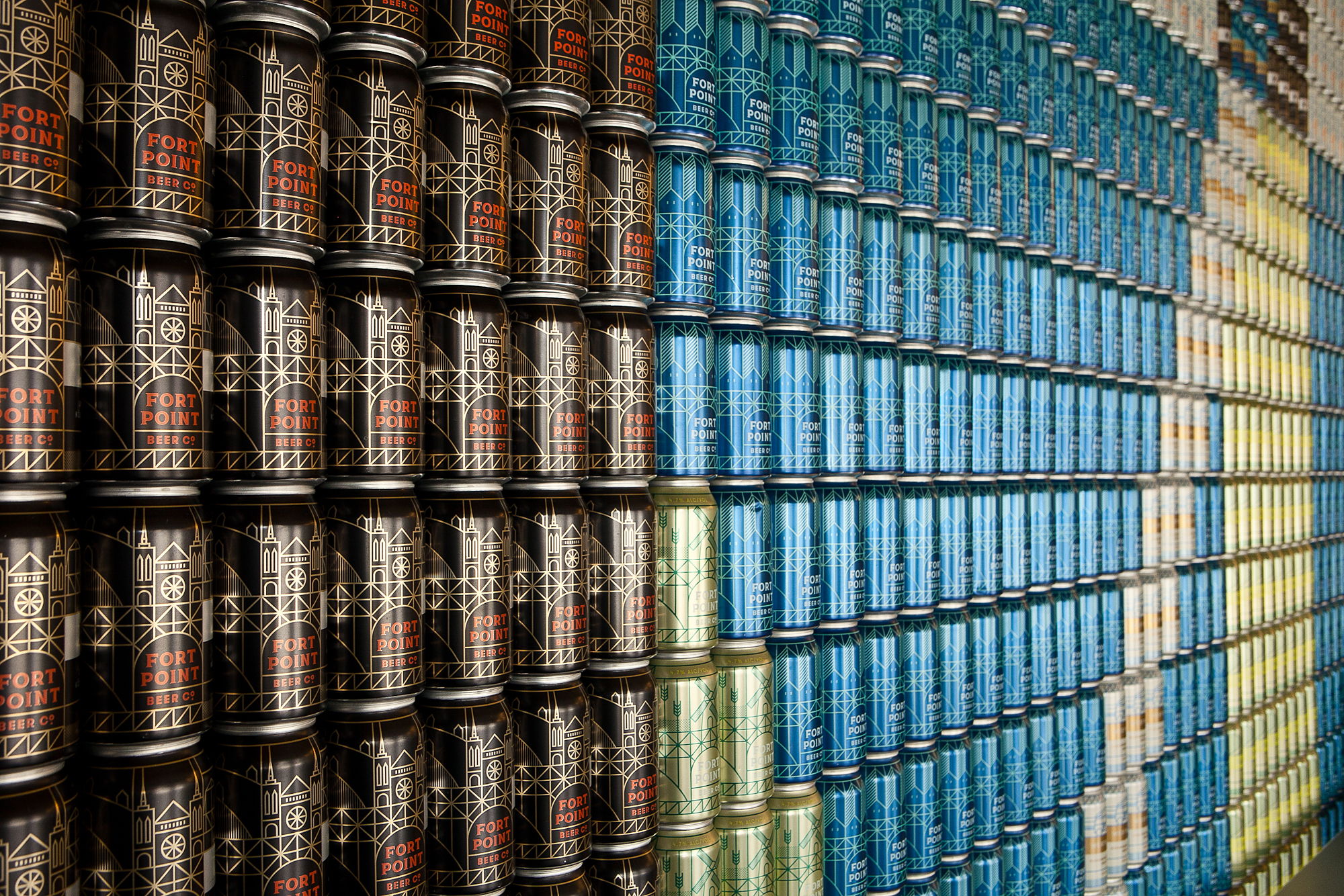 ACCOLADES & ASSOCIATIONS
2015, 2016 Good Food Awards Winner & 2017 Finalist
Manzanita & Moon Phase Beers
The Good Food Awards celebrate the kind of food we all want to eat: tasty, authentic and responsibly produced. They grant awards to outstanding American food producers and the farmers who provide their ingredients. These recipients push their industries towards craftsmanship and sustainability while enhancing our agricultural landscape and building strong communities. Chosen from 2,000+ entrants, Good Food Awards Winners lead the way towards a tasty, authentic and responsible food system. These companies are creating vibrant, delicious, sustainable local food economies.
San Francisco Brewers Guild
Member
The San Francisco Brewers Guild formed in 2004 as a non-profit 501 (c)(6) during a renaissance in American craft brewing. Their mission is to restore and preserve San Francisco's brewing heritage and unite those who make local beer with those who love it. The Guild achieves this by educating the public about craft beer, organizing and hosting events such as SF Beer Week, Brews on the Bay & Meet the Brewers, advocating for the craft beer industry in city government, donating services and product to local charities, and partnering with artisan producers in the food, beverage, hospitality and agricultural industries.