GROVE 45

Based in St. Helena, California, Grove 45 produces Extra Virgin Olive Oil (EVOO) from long established, organically farmed groves located in Napa Valley. The Italian field blend of Frantoio, Leccino, Maurino, Pendolino and Nocellara de Belici olives are balanced, medium robust and display fruity, grassy and peppery qualities typical of Tuscan EVOOs. Enjoy Grove 45 EVOO liberally to complement and enhance all of your favorite foods!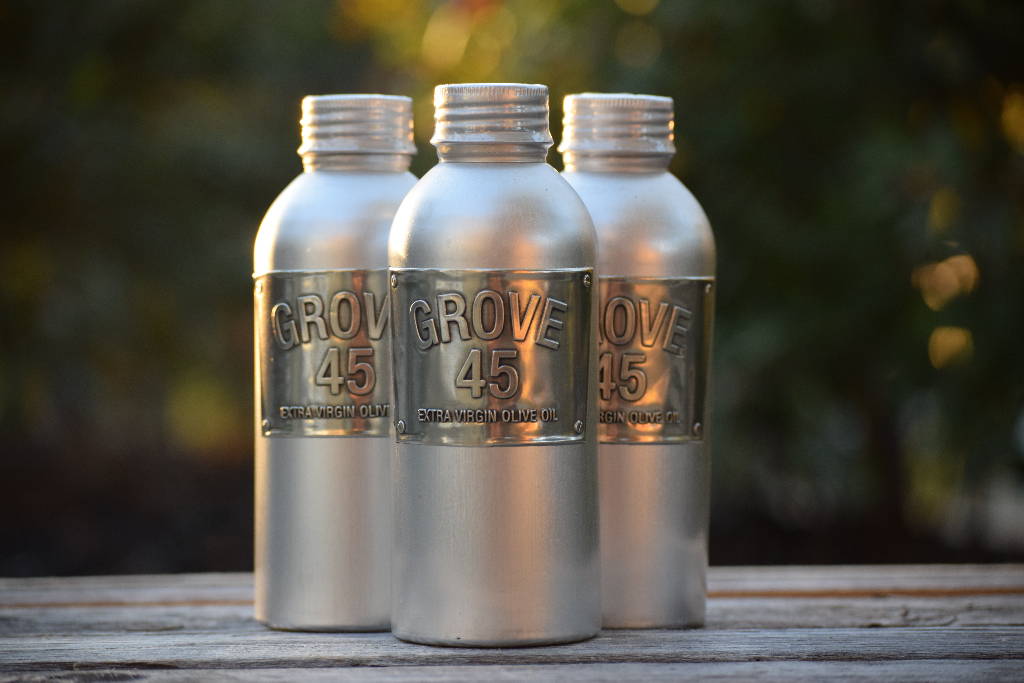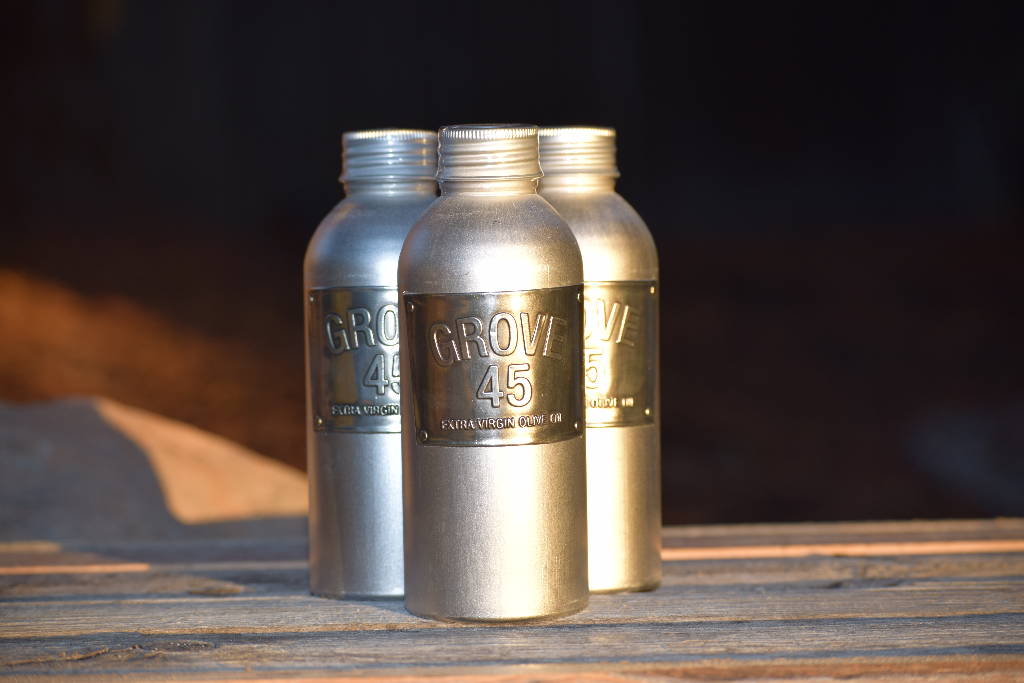 STORY
Long time friends Nena Talcott and Bonnie Storm were individually assessing the rest of their lives. It was early 2009 and they would be turning 65 the next year, signing up for Medicare and applying for Social Security. They had both lived extraordinarily busy lives, each in her own right, having grown olives and grapes in Napa Valley for many years. Retiring didn't have a good sound to it.
Bonnie had been growing olives and raising cattle on her ranch tucked away in a little known corner of northeastern Napa County known as Chiles Valley. Among the first to import Italian variety olive trees to California and make a Tuscan style oil for which she'd won numerous gold medal awards, Bonnie loved farming. Trouble was she didn't enjoy marketing so in 2008 she quit selling oil commercially and sold it out of her barn, one bottle at a time. Nena had been on a similar track, having spent thirty years in Napa Valley growing premium grapes, owning a winery and producing her own gold medal, award-winning olive oil from Bonnie's olive tree cuttings she'd planted around her vineyards. In 2006, Nena sold her vineyards and winery and retired. It wasn't long before she missed farming.
During lunch in early 2009, the two good friends got to talking about their lives, assessing what was next. Before the meal was over they had agreed to share the 2009 farming costs of growing Bonnie's olives, producing an oil and bringing it to market. It would be a small-production, tree-to-bottle operation. Their hands would touch every aspect from growing and harvesting the olives to packaging and selling the finished oil. They would strive to make their artisanal oil one of the best produced in California.
Bonnie and Nena would name their oil "Grove 45 Extra Virgin Olive Oil" after the year they were both born. Bonnie agreed to handle the farming aspects, since that was what she knew how to do, and Nena said she'd take on the marketing effort. They were jazzed.
Bonnie and Nena quickly breathed life into the term "hands-on". After the enthusiastic duo hand harvested and pressed the olives in November 2009, they racked the oil and allowed it to rest for several months in Bonnie's barn. In February of 2010, they bottled the oil in an eye catching aluminum container from France, which can be recycled or reused. The container also prevents UV rays from deteriorating the oil's color and flavor and dresses up the kitchen counter. The first harvest, the women produced 58 cases of 550 ml containers of EVOO, hand applying all 700 embossed pewter labels from France.
With Grove 45 bottles in hand, Nena and Bonnie immediately hit the road. A month later, much to their astonishment, they had sold every bottle of the 2009 harvest and customers were asking for more – many more. Grove 45 Extra Virgin Olive Oil can now be found in many parts of the country.
The first Grove 45 harvest coincided with Bonnie and Nena receiving their Medicare cards and first Social Security checks, proving it is never too late to start something new.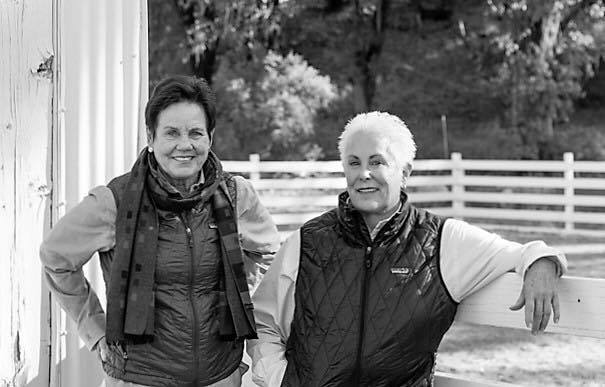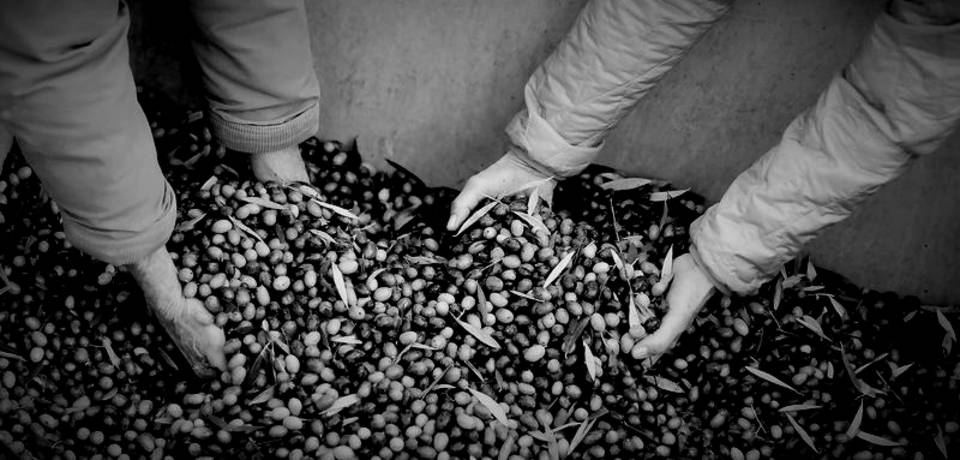 Bonnie Storm (left) & Nena Talcott (right)
THE PROCESS
Extra Virgin Olive Oil (EVOO) has been revered and savored since the first harvest in Crete circa 2500 B.C. To be called extra virgin, an oil must be mechanically pressed without the addition of heat or chemicals to extract or extend the oil. It must have a free fatty acid level less than 1%. It must pass an evaluation by a certified tasting panel and have no sensory defects. To be labeled as Estate Bottled oil, 95% of the fruit must come from the same property or groves. The color of extra virgin olive oil can vary from intense green to bright yellow, depending on the variety and time of harvest.
Grove 45 trees were imported from Tuscany in 1994. In 2004 Sicilian varieties were planted in a second grove. Grove 45 is organically hand farmed and harvested. Other than harvest and bottling all work is done by the founders, including hand labeling. Harvest is usually mid-November, and the fruit is generally 60% green to 40% black.
Grove 45 Extra Virgin Olive Oil has an intense green color and a robust, fruity, spicy flavor. It is the proud recipient of the California Olive Oil Council Seal of Excellence.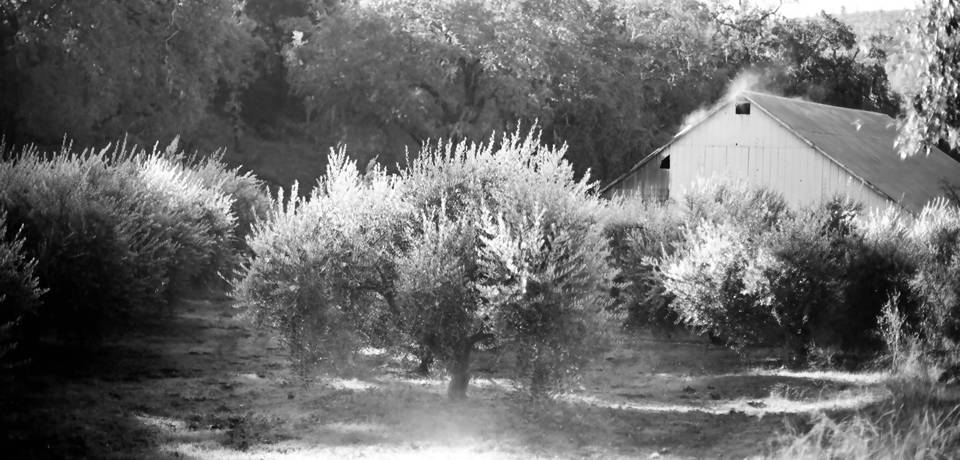 FARMING
Location
Grove 45 groves are located in the Chiles Valley District AVA in the Napa Valley Appellation. Chiles Valley is the perfect environment to grow olives (and grapes), with its warm summer days, chilly nights and an 800 to 1,300 foot elevation. The soil is primarily Tehama loam, which drains well. With colder winters and springs, harvest comes earlier here than on the Napa Valley floor.
The Olives
Grove 45 grows 300 Tuscan variety olive trees, including Frantoio, Leccino, Maurino and Pendolino varieties, and 200 Sicilian Noccelara de Belice olive trees.
The Watering System
Drip irrigation is used to avoid alternate bearing years.
Farming
All groves are farmed organically.
Innovative Farming Practice
Everything is done by hand from weeding to pruning to harvesting.
PRODUCTION
Grove 45 Style
Grove 45 Extra Virgin Olive Oil (EVOO) is a medium to full-bodied robust oil with an intensely deep green color and a fresh, fruity and peppery character. Their oil is reflective of the rugged and hilly terroir of Chiles Valley, a remote corner in northeastern Napa Valley where the groves are located.
Harvest
Their first harvest over a two-day period in mid-November 2009 yielded a heavy crop. Because they pick their olives early to avoid frosts that can occur this time of year in Chiles Valley, they are greener than most olives.
Racking and Bottling
After pressing, the oil rests for two months and is bottled in mid January.
THE OLIVE IN CALIFORNIA
The olive tree is one of the oldest cultivated trees in the world spreading from the Middle East to the Mediterranean more than 6,000 years ago. The olive came to California in the 18th century when Christian missionaries brought olives and grapes with them as they established missions throughout the state. By the 19th century, the olive oil industry was thriving in California due to the state's perfect terroir for growing olives.
The California Olive Oil Industry began a resurgence in the late 1980's when Lila Jaeger formed the Northern California Olive Oil Council (NCOOC) after restoring her 100-year-old groves at the Rutherford Hill Winery in Napa Valley and starting to produce olive oil. Bonnie Storm became secretary of the NCOOC, in its early years, and was among the first California farmers to import bare root Tuscan variety trees from Italy. A small group of original NCOOC members promoted the fledgling olive oil industry and soon the group became the California Olive Oil Council (COOC).
The COOC has successfully sponsored legislation to insure truth in labeling and prevent unlawful representation of oils from around the world as "extra virgin". The group has a certification program that guarantees each certified oil is extra virgin.