Holy Smoke

Holy Smoke produces gourmet extra virgin cold pressed California olive oil and honey that's cold-smoked with hickory in Charleston, SC. Their mission is to create unique, delicious, healthful, all-natural smoked foods for everyone to enjoy. Holy Smoke products are naturally cold-smoked in small batches for 9+ hours in a machine they created to keep the products raw while hickory smoke infuses into them. That is what adds that irresistible, mouth-watering, smoky, savory flavor to Holy Smoke. They do all of the hard work so you don't have to.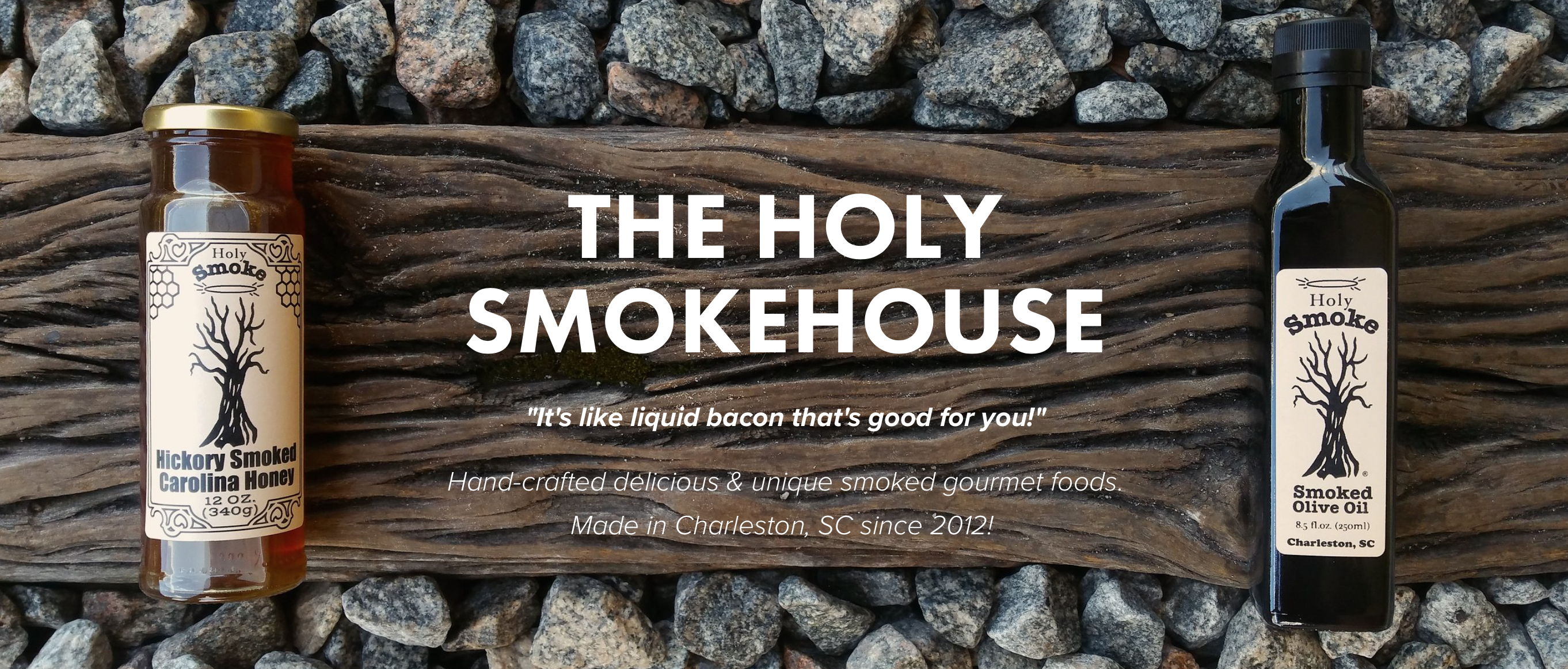 The Men Behind the Smoke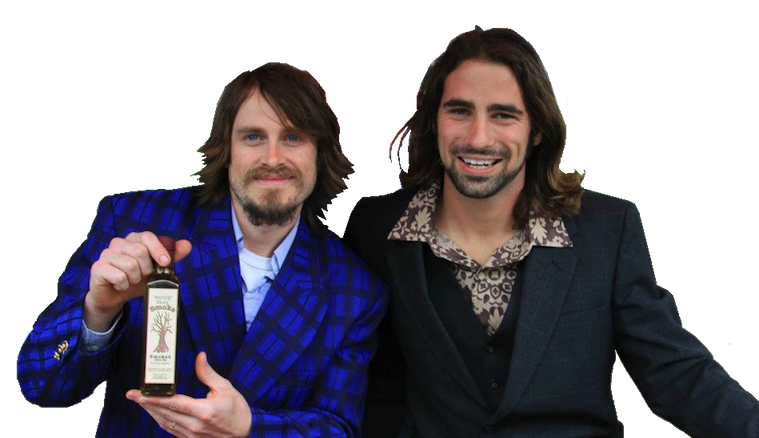 Kyle Payne and Max Blackman (pictured left) don't take themselves too seriously. They named themselves the Executive Dishwasher (Kyle) and Operations Operator (Max) on their business cards. They like to play ping pong and listen to Tenacious D and Willie Nelson while waiting 9 hours for the olive oil to smoke. One thing they do take serious, though, is their craftsmanship and the quality and care put into each and every single bottle of Holy Smoke.
Kyle and Max met while working together at a restaurant on Folly Beach, SC and became fast friends. One night after a long shift, Kyle confided in Max his idea: Hickory smoked olive oil. It started years previous when Kyle was smoking sea salt to give as presents to friends and family during lean times in the holiday season. He noticed a bottle of olive oil out of the corner of his eye in the kitchen and thought, "Why not?" It was a resounding hit with his loved ones! His friends and family clamoring for more prompted him to bottle it for the masses. He faced one gigantic problem though. "Heat destroys the integrity of extra virgin olive oil," Kyle explains, "so I had to find a way to smoke it while keeping the oil cold. I know food, and as it turns out, Max knows machines."
The night after the Smoky Duo's fateful conversation, Max created a machine that cold-smokes the extra virgin olive oil at 37° Fahrenheit. "The near-freezing temperature ensures the olive oil stays raw and extra virgin," says Max, "so it retains all of it's chemical and nutritional properties while being naturally smoked."
The resulting product, Holy Smoke Smoked Olive Oil, is a food-lover's dream. A rich, buttery extra virgin olive oil with a pepper finish that has a savory smoke that ties it all together. Their slogan is "It's like liquid bacon that's good for you!" and for good reason. Extra virgin olive oil has long been known to have a myriad of beneficial properties like lowering LDL-cholesterol and is a natural anti-inflammatory, but with the addition of hickory smoke, it can be used in many dishes to create a "meaty" flavor without any animal products. Some examples are smoked hummus, smoked tomato caprese, or a smoky pesto. It can also be used to finish soups, salads, pizza, sandwiches, or roast veggies like brussel sprouts or mushrooms. It's not just a vegetarian's delight. It's wonderful over pan seared fish, steak, or chicken to add that bacon-y smoky nuance.
"We want to make simple food that's nutritious and delicious." Kyle says. "We take 2 simple ingredients, olive oil and smoke, and create a complex flavor that everyone can enjoy.
Bacon, butter, olive oil lovers, vegans and vegetarians alike can rejoice in Holy Smoke.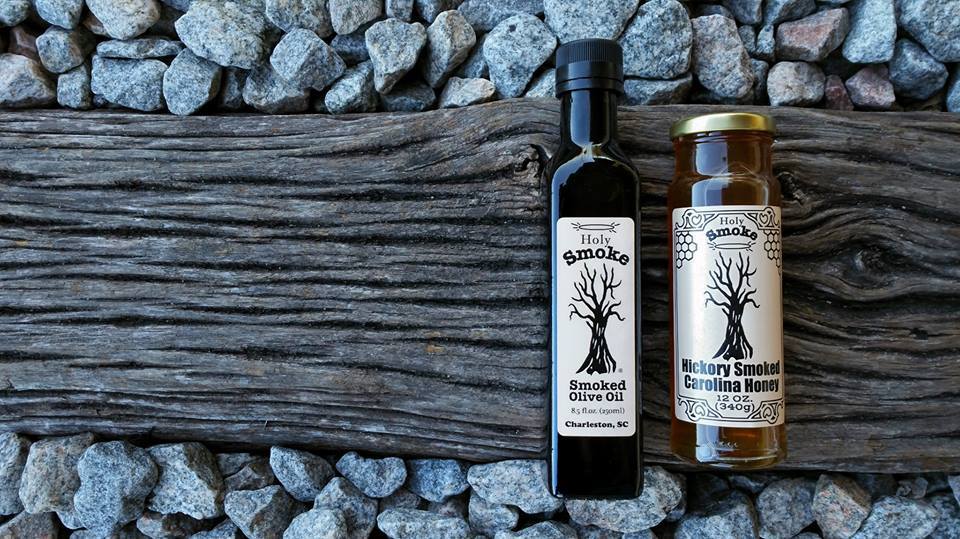 THE FLAVORs
Holy Smoke Hickory Smoked Carolina Honey is raw wildflower South Carolina honey that's cold-smoked with hickory in Charleston, SC.
Holy Smoke Honey is both dark and floral. It has an almost molasses start with a bright bouquet of wildflower sweetness. The hickory smoke is an undertone in the beginning and then comes on stronger in the finish to tie it all together. This cuts the sweetness allowing Holy Smoke Smoked Honey to be used in both sweet and savory dishes.
THE MANY USES OF HICKORY SMOKED HONEY
Stir into tea & coffee

Drizzle over fried chicken & biscuits

Marinades

Glaze ham & ribs

In homemade barbecue sauce

French toast & pancakes
Cocktail mixer (old fashions & manhattans)

On sausage & bacon

Glaze salmon

Smoked honey mustard & honey butter

Accoutrement to charcuterie & cheese

Use it on EVERYTHING!
Holy Smoke Smoked Olive Oil is 100% cold pressed extra virgin California olive oil blend that's cold-smoked with hickory in Charleston, SC.
Holy Smoke Olive Oil starts of rich and buttery with fresh grassy notes. It then transforms into a savory smoke with a slight nuttiness. It finishes with a subtle pepper on the back of the throat.
This is why they say, "It's like liquid bacon that's good for you!"
THE MANY USES OF SMOKED OLIVE OIL
Pizza & sandwich dressing
Drizzle on soups & salads
Roasting vegetables
Pastas & sauces
Finish pan-seared meats & fish
Cooking eggs
Making vinegarettes
Hummus
Pesto
Chimichurri
Accoutrement to charcuterie & cheese
Use it on EVERYTHING!