Mommy Choi

This is what you may hear if you meet Mrs. Mommy Sauce (Mommy Choi):
"My son is so famous and I asked him to sell this sauce in his business and he never did anything because he said it's not his sauce, so I had to go out and sell my own sauce because he never listens."
Her son, Chef Roy Choi to his defense, puts it this way:
"You should know I did try to help her but she took it as an insult. Whatever I did was never enough. It doesn't matter now. All I care about is keeping the peace. Like cooking, our relationship is a delicate dance. So here I am confessing and marketing to you, for my mom. But here's the thing. This sauce is amazing. So amazing I told her she had to name it "Mommy Sauce". Not for the obvious reasons but because it is - truly a mother sauce. But it's not my sauce, it's hers. But we already talked about that. I have done my part."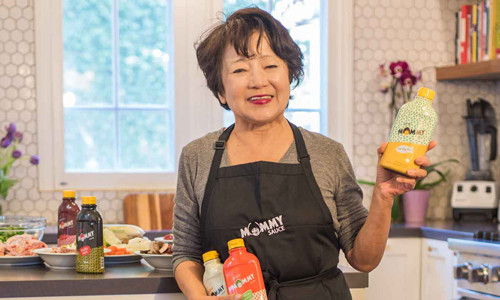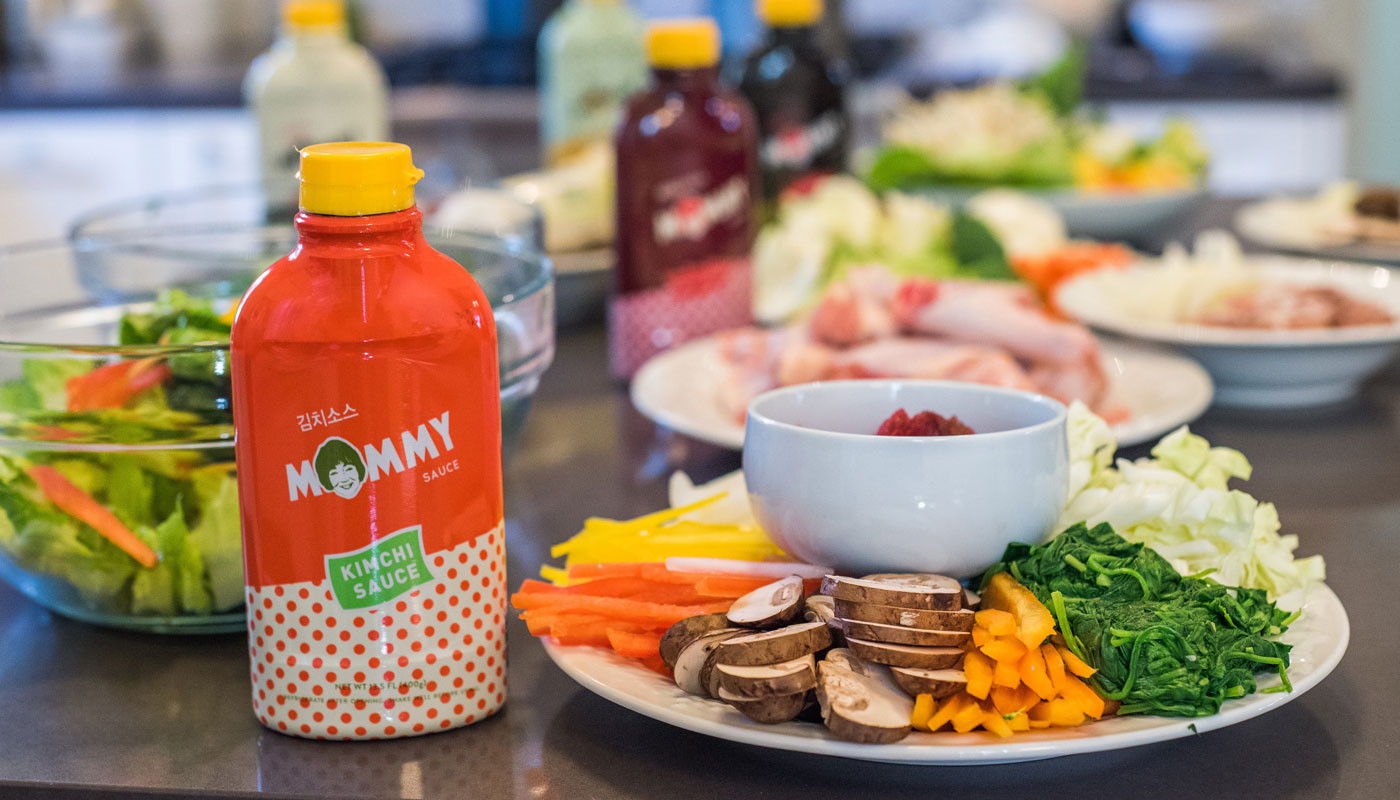 ABOUT
Mommy Choi was born and raised in Myeong Dong, Seoul Korea in a family of 11 children. Her mother was a famous fashion designer in Korea and she sent her to the United States to attend art school to learn the latest Western fashions but she met her husband, fell in love, and decided to stay in America. They worked really hard to make it in America. They had two kids - a boy and a girl, and could not be more proud. Her son, Roy, is a famous chef and her daughter, Julie, is a lawyer.
She loves to cook and her house is always filled with people and food. She decided to make these sauces so that she could pass on her recipes and flavors to her children and grandchildren. Her kids and grandkids love these sauces so much they said that she had to share her flavors with the world! Each of these sauces is different but feel free to experiment - there is no wrong way to use them.  
Mommy Choi had worked hard her entire life, and across several industries, from jewelry to restaurants. She was inspired to start this company because now that she's older, she has less worries, and a clearer vision of her dreams. She feels more secure and works because she wants to, not because she has to. She believes it's never too late to follow your dreams.
Korean food is on the rise but Mommy Choi believes a lot of people still don't know how to cook it. She wants to make Korean food easy and approachable, and for the home cook or mom on the go...fast! There are other sauces on the market, but they are mostly dipping or ssam sauces. Mommy Choi's sauce recipes have been developed in her kitchen for more than 40 years, and are true reflections of Korean flavors you'll find in a Korean home.
What's great about these sauces is that you don't have to use them for Korean dishes only, you can use them to make aiolis, salad dressing, skewers, or marinade any cut of meat & fish, and so much more!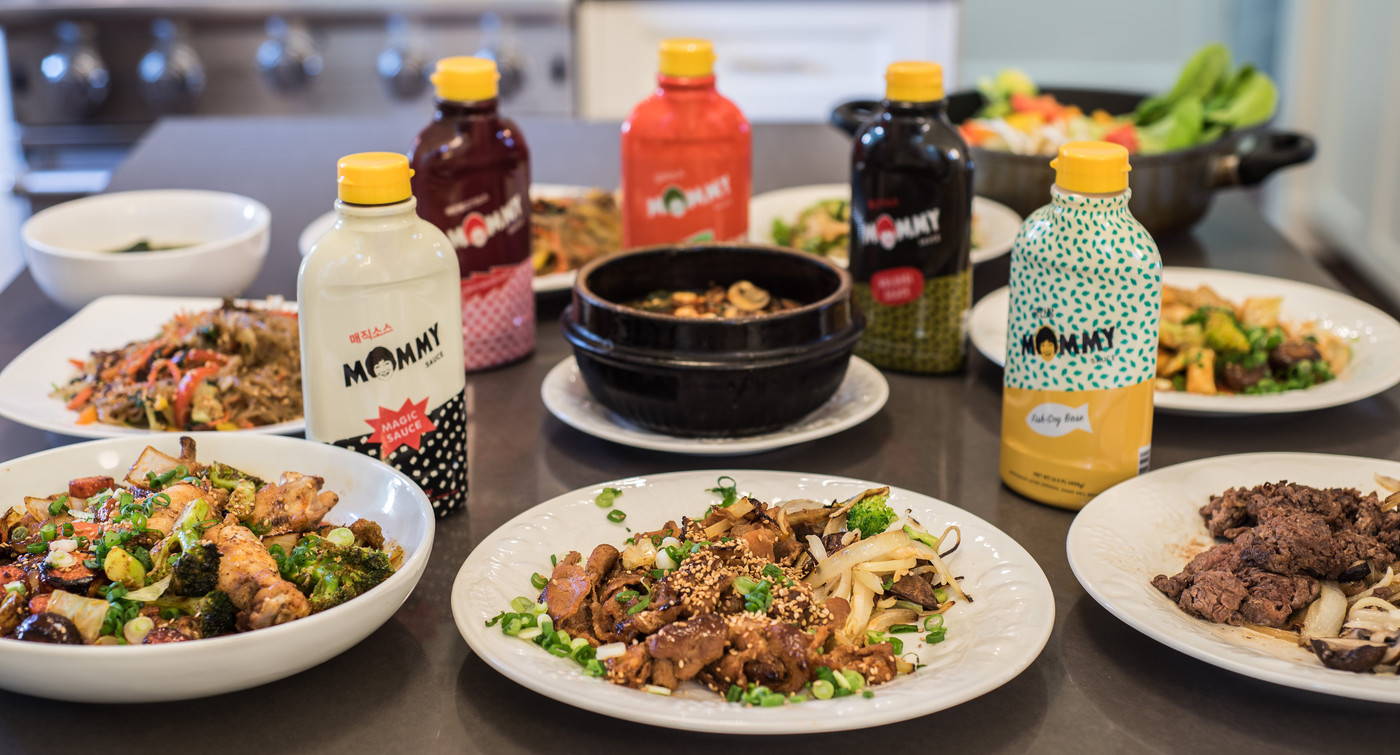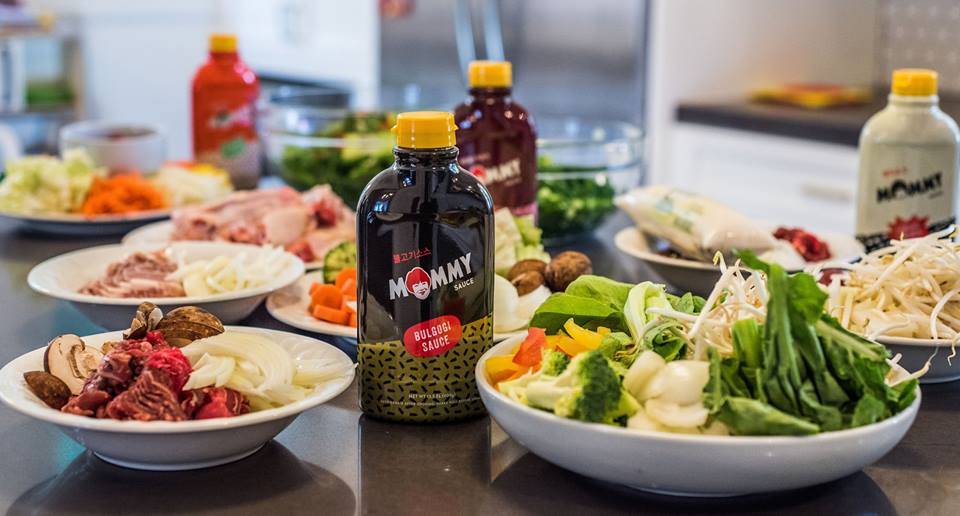 Ingredients
*All products contain wheat, soy, and fish.
** Please remember to shake well.
*** As these are soy based sauces, they will last 2-3 months longer than the printed expiration date.
Magic Sauce
Ingredients: Soy Sauce Mix [Fish Sauce {Anchovy, Salt), Soy Sauce (Defatted Soy, Water, High Fructose Corn Syrup, Sea Salt, Wheat)], Water, Red Pepper, Soybean Oil, Sugar, Maltodextrin, Monosodium Glutamate, Seasoning (Salt, Onion Powder, Garlic Pwder, Disodium 5'-Ribonucleotide, Black Pepper Powder), Modified Starch, Sea Salt, Glycerin Esters of Fatty Acid, Ginger Powder, Oleoresin Paprika, Spirits, Oleoresin Capsicum, Xanthan Gum, Potassium Sorbate, Citric Acid
Contains Wheat, Soy, and Fish
Bulgogi Sauce
Ingredients: Soy Sauce (Defatted Soy, Water, High Fructose Corn Syrup, Sea Salt, Wheat), Sugar, Corn Syrup, Water, Mirin (Rice, Spirits), Apple Juice, Garlic Powder, Onion Powder, Seasoning (Salt, Onion Powder, Garlic Pwder, Disodium 5'-Ribonucleotide, Black Pepper Powder), Sesame Paste, Black Pepper Powder, Ginger Powder, Monosodium Glutamate, Spirits, Potassium Sorbate, Citric Acid
Contains Wheat, Soy, and Fish
Spicy Bulgogi Sauce
Red Pepper Paste (Corn Syrup, Water, Wheat, Red Pepper Powder, Salt, Defatted Soy Powder), Soy Sauce Mix [Fish Sauce {Anchovy, Salt), Soy Sauce (Defatted Soy, Water, High Fructose Corn Syrup, Sea Salt, Wheat)], Water, Sugar, Corn Syrup, Soybean Oil, Apple Juice, Red Pepper Powder, Sesame Paste, Seasoning (Salt, Onion Powder, Garlic Powder, Disodium 5'-Ribonucleotide, Black Pepper Powder), Monosodium Glutamate, Glycerin Esters of Fatty Acid, Oleoresin Paprika, Spirits, Oleoresin Capsicum, Xanthan Gum, Potassium Sorbate, Citric Acid
Contains Wheat, Soy, Fish
Kimchi Sauce
Ingredients: Water, Soy Sauce Mix [Fish Sauce {Anchovy, Salt), Soy Sauce (Defatted Soy, Water, High Fructose Corn Syrup, Sea Salt, Wheat)], Sugar, Red Pepper Powder, Apple Juice, Sea Salt, Monosodium Glutamate, Seasoning (Salt, Onion Powder, Garlic Powder, Disodium 5'-Ribonucleotide, Black Pepper Powder), Oleoresin Paprika, Spirits, Potassium Sorbate, Citric Acid
Contains Wheat, Soy, and Fish
Fish/Soy Base
Ingredients: Fish Sauce (Anchovy, Salt), Water, Soy Sauce (Defatted Soy, Water, High Fructose Corn Syrup, Sea Salt, Wheat), Mirin (Rice, Spirits), Monosodium Glutamate, Seasoning (Salt, Onion Powder, Garlic Powder, Disodium 5'-Ribonucleotide, Black Pepper Powder), Garlic Powder, Onion Powder, Spirits, Potassium Sorbate, Citric Acid
Contains Wheat, Soy, and Fish