Mouth Party Caramels

Mouth Party caramels are cooked in small batches and are made fresh to order in Timonium, Maryland - just outside Baltimore. They use the highest quality, natural ingredients, with no added artificial preservatives. Mouth Party products taste and texture transcends all expectations for soft caramels and they work hard to build and maintain their reputation as an affordable luxury item, perfect for anyone and for any occasion. Along with providing their own customers with the world's best soft caramel, Mouth Party is dedicated to helping advance cancer research one sweet bite at a time, by donating a percentage of net profits annually to research and support services.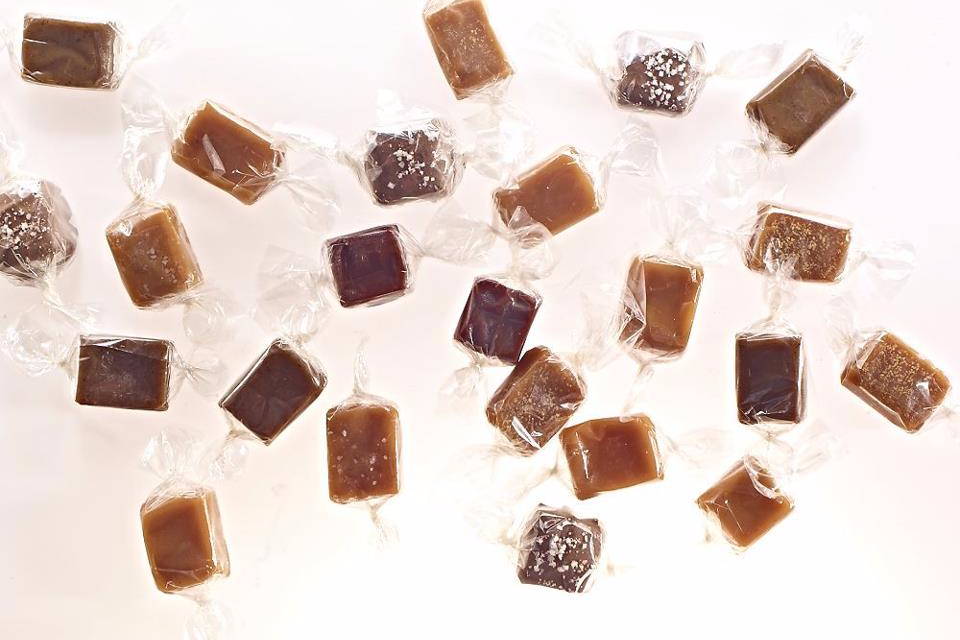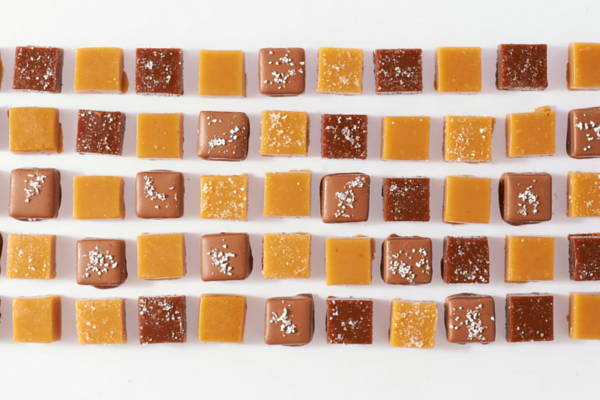 STORY
The original caramel started it all and is derived from Jane Drake Cummings' four-generation-old family recipe. Jane, has been married to Mouth Party Founder B.G. Purcell's father for over 30 years, and first shared her family secret with her when she was 12…let's just say that B.G. has been making these caramels for a LONG time!
Mouth Party, LLC. started on a whim in 2007. Around then, Jane became ill with Lymphoma for a second time. This development sparked a conversation about possibly selling her delectable caramels with the hope that a percentage of the profits could go directly to the fight against cancer. The first retail outlet to carry their caramels was the Johns Hopkins Hospital Gift Shop + Juice & Java coffee bar. B.G.'s father, Dr. Charles Cummings, has worked at Johns Hopkins Hospital as a head and neck surgeon specializing in oncology for over 25 years. Jane received treatment for her Lymphoma at Johns Hopkins and is committed to and very involved with the Johns Hopkins Hospital Women's Board. It was the perfect place to begin.
The very first caramel batches were cooked in B.G.'s home. It didn't take long to see that this arrangement would not work with kids and dogs around. She found a commercial kitchen space to rent through her daughter's school and they were there for nearly three years. In September of 2010, Mouth Party moved into their very own commercial kitchen facility that also served as a small retail outlet. In two years time, the company exceeded capacity of this space and in March of 2013, they relocated to a 3,200 square foot facility. This new location was situated in an old paper mill in the Hamden neighborhood, just north of downtown Baltimore. This location was industrial and oozed the charm associated with and old mill, but it was also located on a flood plain that proved problematic.  
In May of 2014, Mouth Party experienced the first of what would be two devastating, total loss floods. The second flood occurred in July of 2016 and this incident proved to be the final straw, forcing the company to relocate to a temporary home while planning for the next step. In September of 2017, Mouth Party opened the doors to their new 8,000 square foot production facility in Timonium, Maryland.
In the 10 years that Mouth Party has been in business, the company has grown to 12 employees and has expanded their product line to include five standard flavors of caramels with periodic limited-time offerings and a variety of scrumptious caramel sauces. Their products can be found online and in over 200 local and national retail locations; gourmet and specialty food stores, retail boutiques, cafes and coffee shops, hotels, home and garden stores, and wine shops.
B.G. is constantly amazed by the enthusiasm and support for Mouth Party products from the community and other local businesses. She feels fortunate that they have been so well received by the public. Keep in mind that B.G. began with no retail experience or business acumen. When she look backs to the beginning, B.G. realizes that she took a huge leap of faith, with with no business plan, no starting capital, no facility to produce the product…all she had was the idea and belief that she could carve a niche for Mouth Party. She set aside her landscape design business and the secondary income (with her husband's support) to pursue this high-risk venture with no pay. B.G. even had several friends from grad school ask if she had lost her mind!
Today, B.G. continues to cook in small batches with love and is committed to providing the highest quality products and best customer service they possibly can. Mouth Party is founded on the commitment to help advance cancer research 'one sweet bite at a time'. It is Jane's fight and that of B.G.'s remarkable sister Lee Rhodes, a 3-time lung cancer survivor, which has fueled their desire to donate a percentage of the company net profits to cancer research and efforts that heighten public awareness of cancer associated problems.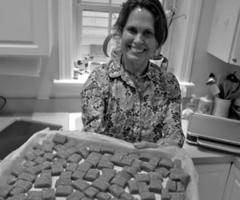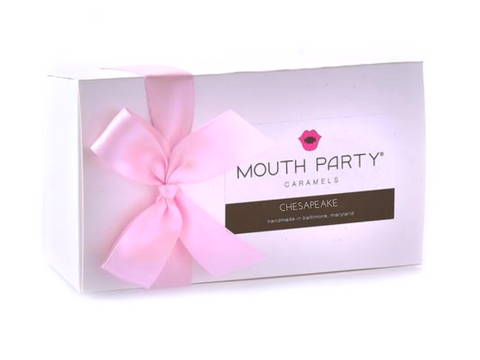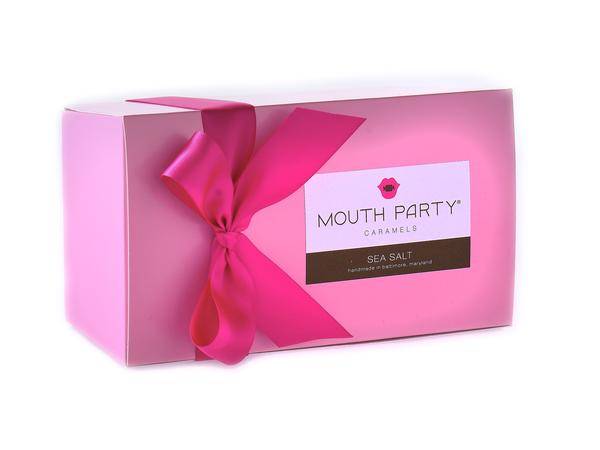 THE recipe
Mouth Party has always stayed true to their 4-generation old caramel recipe. Their caramels are rich, creamy, soft, and velvety...leaving your dental work intact. 5 simple ingredients = pure magic. Butter, cream, sugar, corn syrup, and vanilla are the foundation of all that they create. Mouth Party adds natural oils, Fleur de Sel sea salt, Guittard chocolates, and other ingredients to create the flavors you have come to love. Their products are free from nuts, gluten, trans fats, and high fructose corn syrup.
Mouth Party cooks their caramel in a copper kettle. The caramel is then poured onto a cooling table to set before cutting. They lovingly cut the caramel into one inch squares using Edward "Eddie" scissorhands, their cutting machine. Mouth Party's OMG! and other chocolate covered caramels are then blanketed by a fountain of chocolate as they travel through Eloise 'Weezie' the enrober. They ultimately run every caramel through 'Bessie' and 'Mimi', their 1942 Forgrove wrapping machines for the finishing touch. Once wrapped, the caramels are packaged by hand. Mouth Party processes every order on a first come first serve basis and because their caramels are made fresh to order, they keep very little back stock on hand.
Mouth Party uses the highest quality, natural ingredients, with no added preservatives to create this transcendent experience in caramel. Subsequently, their products are perishable, retaining their freshness for 16 weeks unrefrigerated. The shelf life can increase significantly by refrigerating them in airtight bags.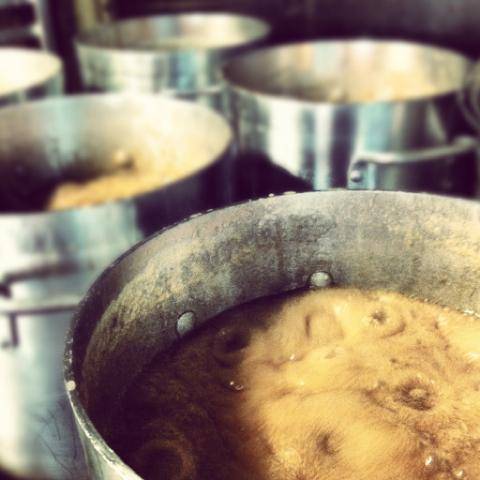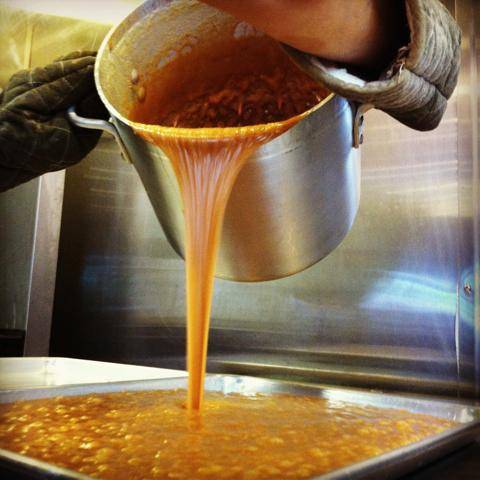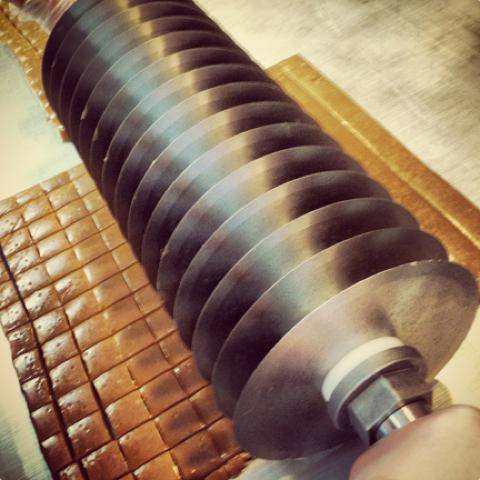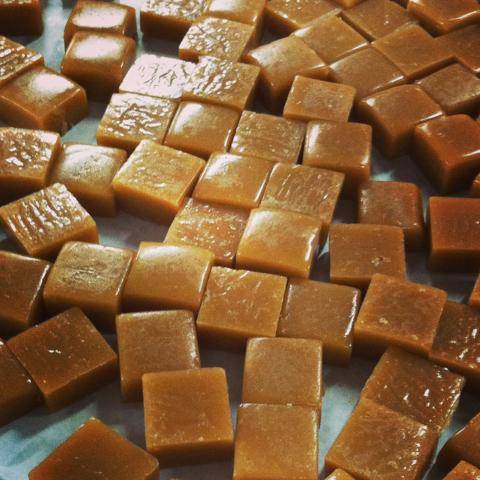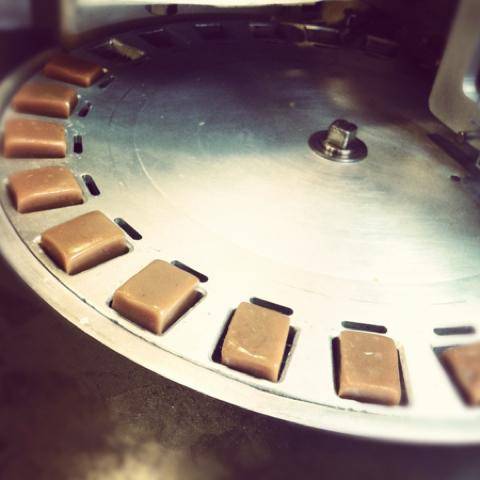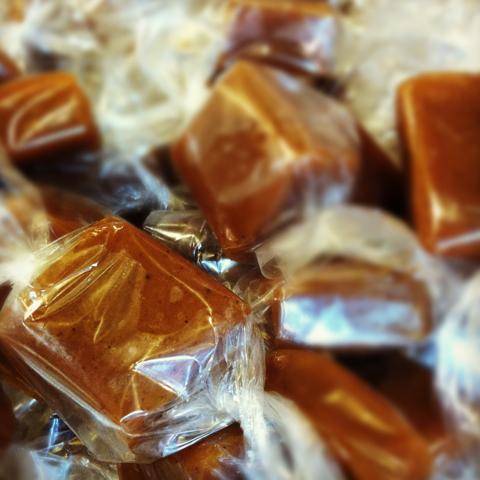 GIVING
Donation Recipients
Mouth Party is committed to giving 10% of their profits to a variety of cancer research organizations and support services. They've selected a few local organizations as their first recipients, and welcome suggestions of other organizations. Mouth Party has recently given to the following organizations:
The Sidney Kimmel Comprehensive Cancer Center
The Sidney Kimmel Comprehensive Cancer Center at The Johns Hopkins Hospital is dedicated to better understanding human cancers and finding more effective treatments. It is one of only 39 cancer centers in the country designated by the National Cancer Institute as a Comprehensive Cancer Center.The Sidney Kimmel Cancer Center has active programs in clinical research, laboratory research, education, community outreach, and prevention and control.
HopeWell Cancer Support is a non-profit organization founded in 1993 that is dedicated to providing a nurturing and supportive environment for cancer patients and their families and friends to come for the latest information and support services. The organization provides 75 different programs free of charge to its participants. These programs include support groups, networking groups, educational workshops, stress reduction classes, and many more.
The American Cancer Society Center
The American Cancer Society is the nationwide, community-based, voluntary health organization dedicated to eliminating cancer as a major health problem by preventing cancer, saving lives and diminishing suffering from cancer, through research, education, advocacy and service.
The Leukemia & Lymphoma Society
The Leukemia & Lymphoma Society (LLS) is the world's largest voluntary health organization dedicated to funding blood cancer research, education and patient services. LLS's mission: Cure leukemia, lymphoma, Hodgkin's disease and myeloma, and improve the quality of life of patients and their families.
Local Community
Mouth Party donates throughout the year to schools, hospitals, churches, and charitable benefits. They donate a variety of their products to meet the recipient's needs. Mouth Party also provides a grassroots opportunity for people of all ages to raise funds themselves for charitable events such as; hospital benefits, school and holiday fairs, and walk-a-thons. Organizations and individuals working to raise money for a charitable cause may purchase Mouth Party products for wholesale cost, and in turn they can sell the same products for retail prices. The difference in cost may then be collected and donated to their chosen charitable recipient.
It is Mouth Party's hope that this arrangement will foster a belief in the power in giving. Individually and collectively, Mouth Party believes we CAN make a difference in our local, national, and global communities.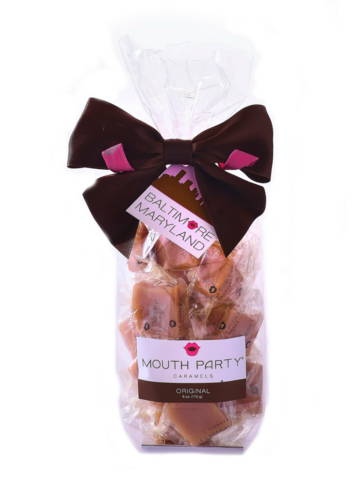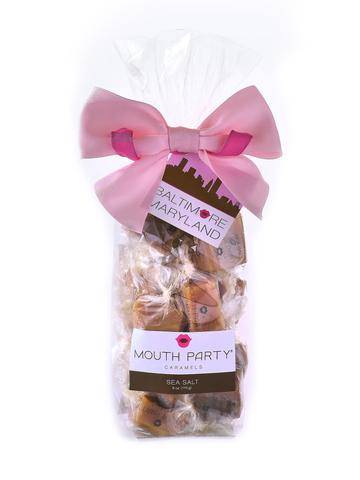 VISIT
Mouth Party Kitchen

Production Hours: Monday - Friday, 9am - 5pm
Retail Shop Hours: Thursday & Friday, 11am - 6pm / Saturday, 10am - 2pm
The shop is always stocked with gift bags and individually wrapped caramels. Please call to place an order in advance for any gift boxes!
Address: 1946 Greenspring Drive, Suite J, Timonium, MD 21093