Ritual Chocolate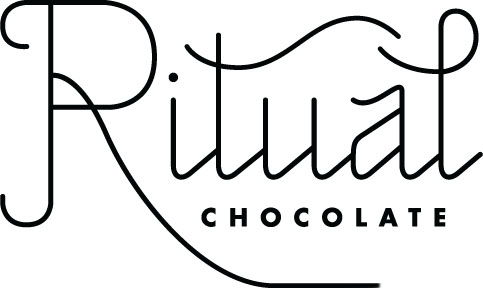 Ritual Chocolate's goal is to revive a focus on quality. In doing this, they also aim to support the people who grow their raw ingredients, the planet and all of its inhabitants.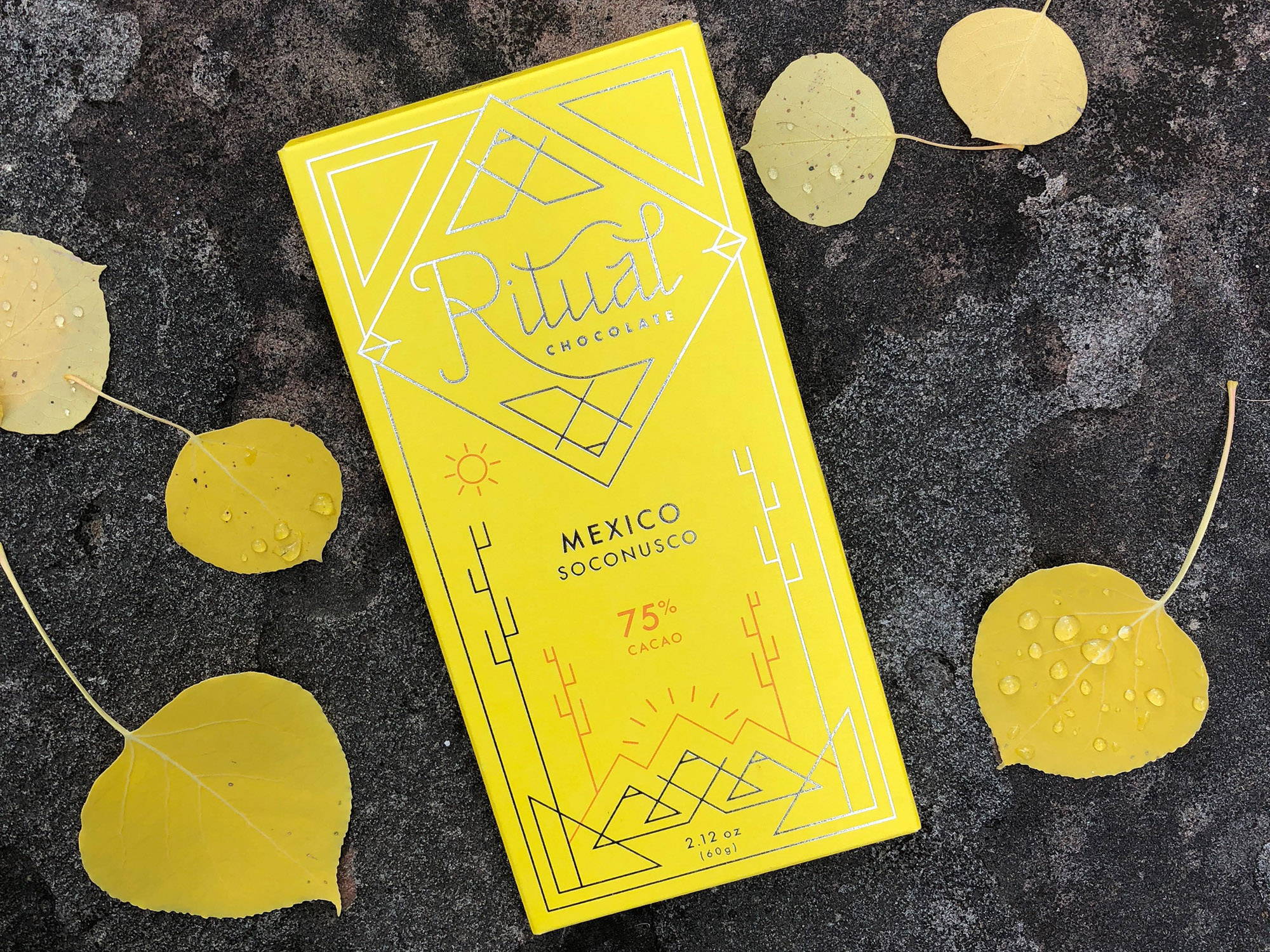 ABOUT
Ritual Chocolate handcrafts small batch, bean-to-bar chocolate using classic European methods with a modern American style. Founded in 2010 by Robbie Stout and Anna Davies, their mission is to produce exceptional quality chocolate while celebrating the complexity of the cacao bean.
Crafting from a small factory in Park City, Utah at 7,000 feet, they are involved with the entire process because they want to ensure their values for the highest achievable quality are present every step of the way. They source some of the highest quality cacao in the world to make their chocolate. With no added flavors, Ritual's chocolate is an authentic expression of the flavor unique to each origin.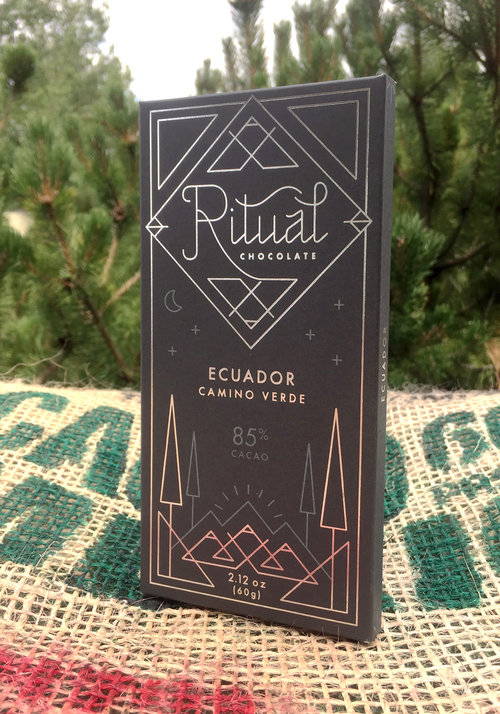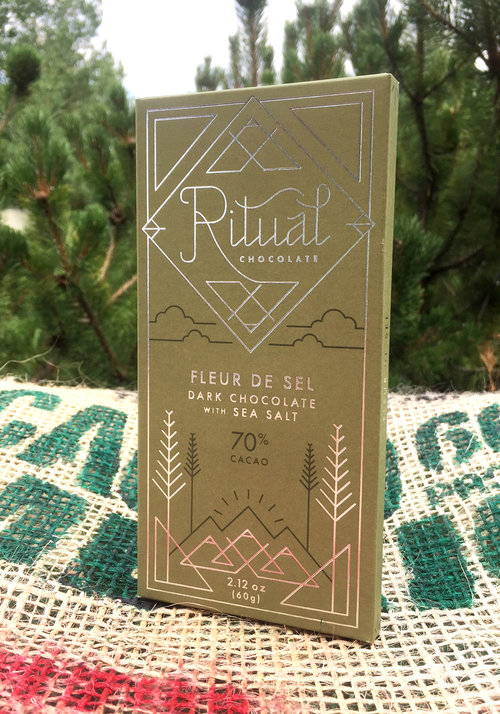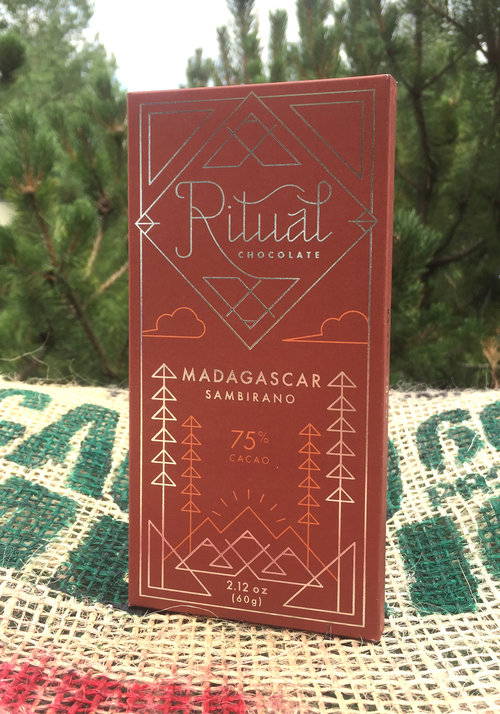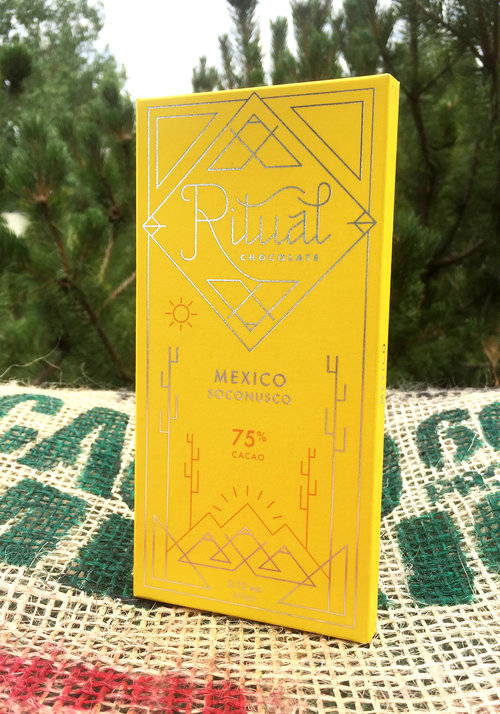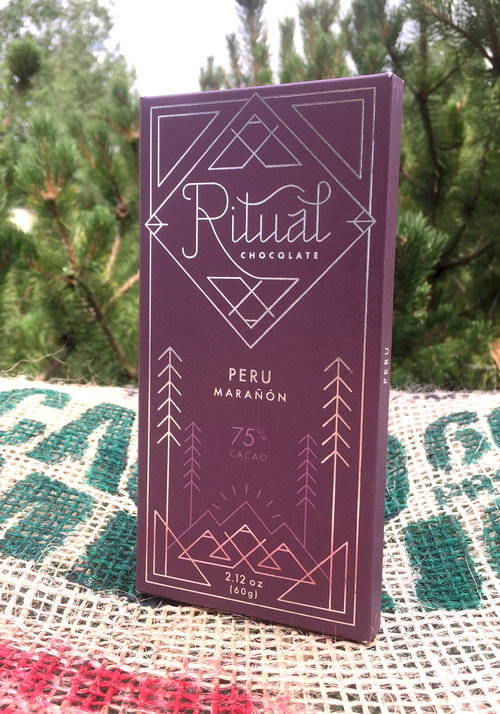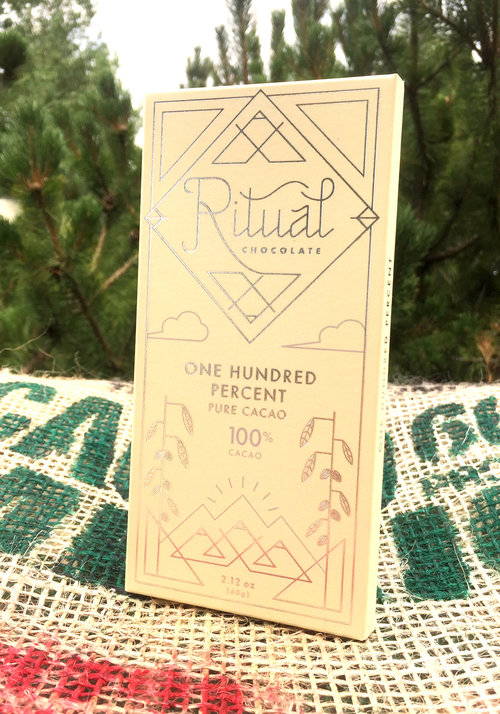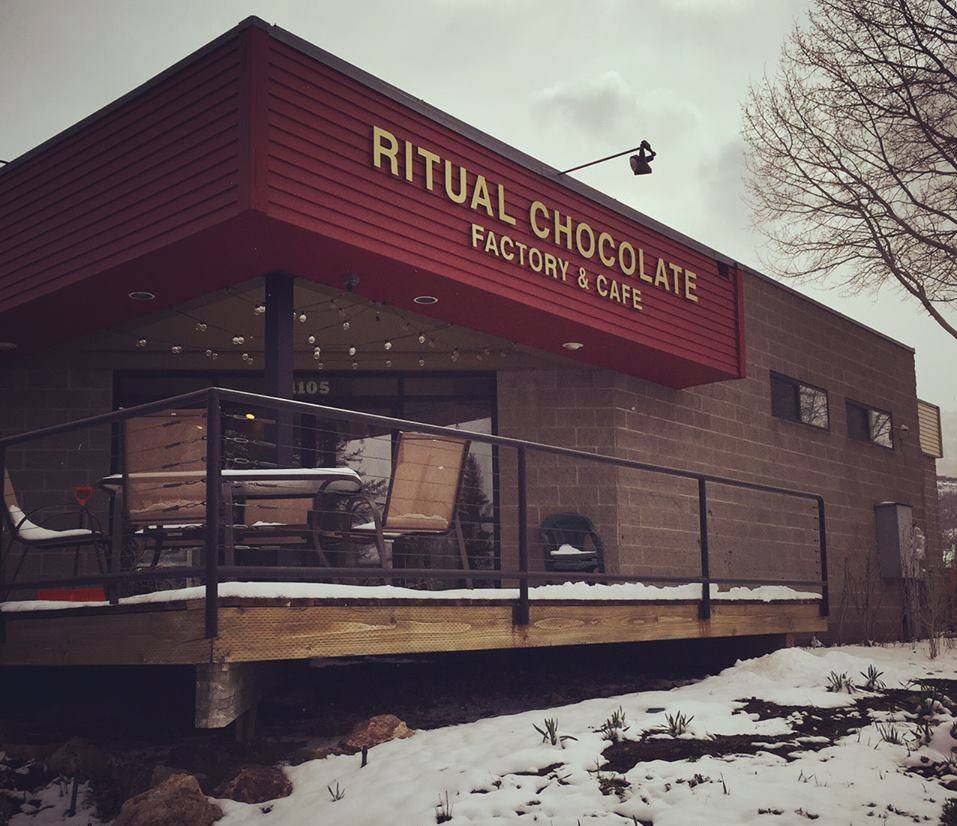 MEDIA
"For an indulgent afternoon pick-me-up, head to Ritual Chocolate. Though the airy coffee shop and chocolate factory is at the edge of town, the trek is well worth the trip..."
Vogue

"Other than Pink Elephant, our favorite is Ritual Chocolate. It's a chocolate factory and cafe that uses our Pink Elephant beans, but pairs them with chocolate that [is] made on-site, you can watch the chocolate being made, and the baristas are really knowledgeable about both chocolate and coffee."
Bon Appétit Magazine

"Ritual Chocolate's new packaging is loyal to its new headquarters and also to the origin of each chocolate bar's beans. Border design, illustrations, and text are creation with delicate lines, speaking to the subtle differences that each coffee bean creates in chocolate bars. The outer packaging opens in a unique way, making it a memorable experience that gets the consumers more acquainted with the origin and process that Ritual follows."
The Die Line

In "A Taste of Chocolate Bars Made from Scratch," Ritual Chocolate ranked as one of the eight most impressive bean-to-bar chocolates made in the United States.  
The New York Times

"Oh it's enchanting to be sure, but you don't need a golden ticket to get into this chocolate factory. You can sip on freshly brewed pour-over or mocha while you watch the mesmerizing stream of of silky-fresh chocolate flowing down the roll mill, and if they happen to be in-house roasting their beans that day, the aroma will bring you to your knees..."
City Home Collective
"The taste eventually floats into a sweet and lingering memory—you find yourself daydreaming about the chocolate half an hour later."
Delicious Living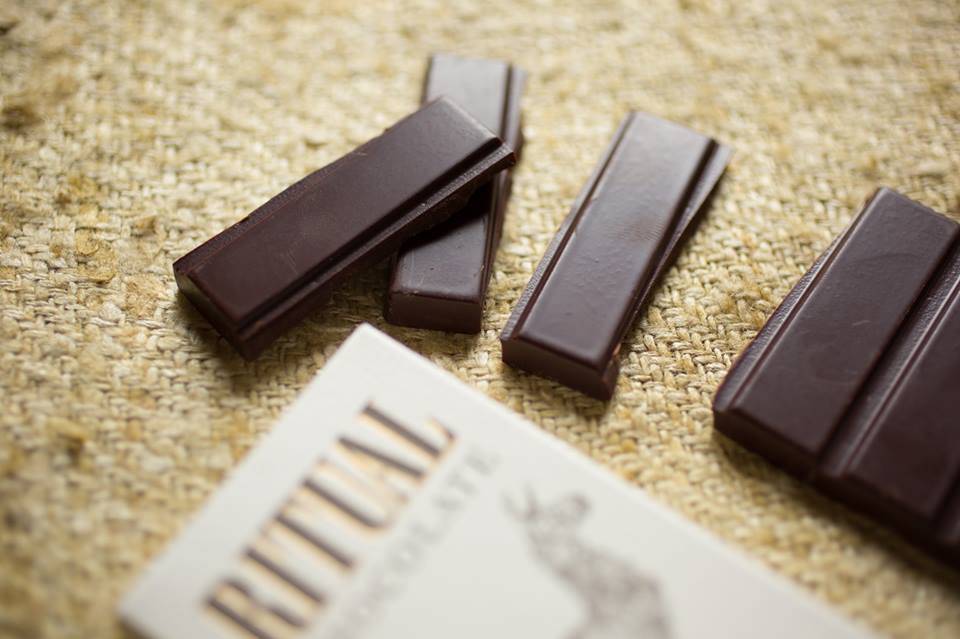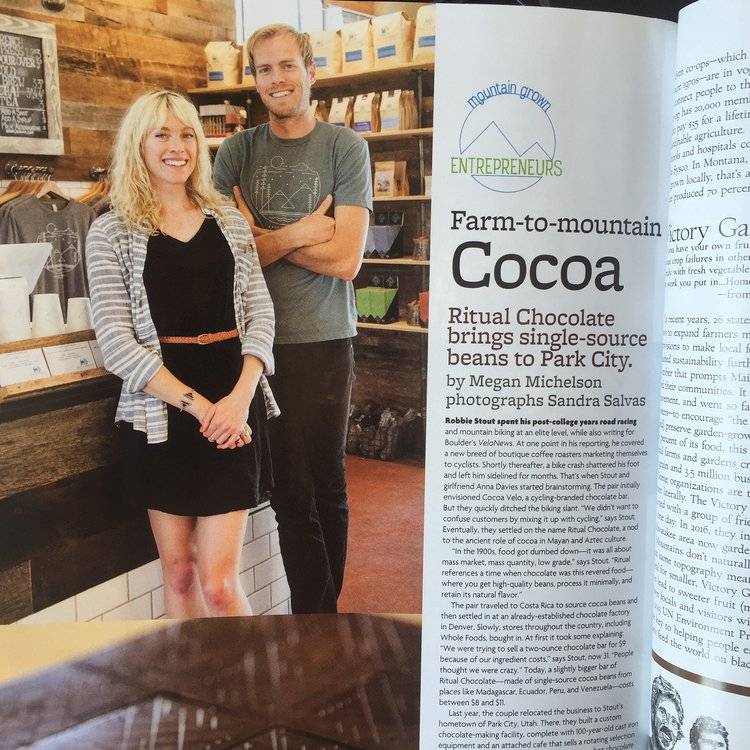 Robbie Stout and Anna Davies (co-owners) of Ritual Chocolate, featured in Mountain Magazine.
AWARDS
INTERNATIONAL CHOCOLATE AWARDS

SILVER
FLEUR DE SEL
ACADEMY OF CHOCOLATE AWARDS
GOLD
MID MOUNTAIN
BRONZE
FLEUR DE SEL
SILVER
FOR PACKAGING
GOOD FOOD AWARDS
MID MOUNTAIN
BELIZE
SOFI AWARDS
BELIZE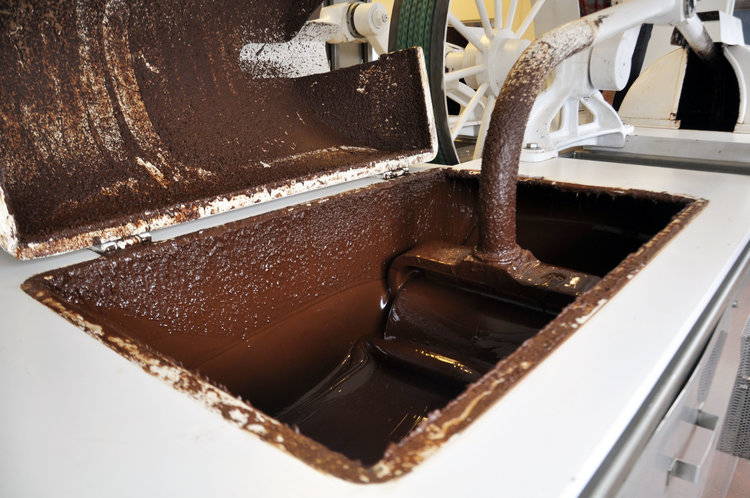 FAQs
What are the hours for Ritual Chocolate's Cafe & Factory?
Monday - Saturday, 7am-6pm and Sunday, 8am-5pm. Ritual rotates pastries regularly and typically have muffins, cookies, scones and brownies. Ritual is located at 1105 Iron Horse Drive in Park City, Utah.
Why is sustainable operation important to the industry?
Chocolate is an agricultural product that doesn't do well under "factory farming" conditions. Cacao grows best when the forest is healthy i.e. biodiversity, healthy soil, thriving insect population, etc. Cacao is also a very delicate species and struggles to produce fruit when conditions aren't just right. So if makers aren't directly doing their part to lessen their negative impact on the planet, then they are hurting the future of cacao.
Who are the people behind Ritual?
Ritual Chocolate was founded by a couple, Anna Davies and Robbie Stout. Robbie and Anna met each other in 2008, fell in love, and then in early 2009 decided to start a chocolate company together. For the first four years of the business, Robbie and Anna were responsible for all of the making, molding, wrapping, shipping, marketing, etc. Today, they are still highly involved but now have help with many aspects of the business. Most of the employees at Ritual Chocolate are very "outdoorsy." This is all part of living in Park City. They're also highly interested in fine foods. Some of them are homebrewers, some of them are bakers—but as a whole they're all foodies.
What influenced the creation of Ritual Chocolate?
Back in 2009, they discovered the concept of "fine chocolate" but it wasn't really available yet in Colorado, which is where they founded the business. They loved wine, cheese, coffee, and all of the foods influenced by terroir and they realized that chocolate also shared the potential to be extra fine and influenced by terroir, but they couldn't find it where they lived. So they decided to start studying, experimenting, and even travelled to Costa Rica and Panama to visit some cacao farms. Ritual officially started the company in 2010 (selling bars at small markets and to friends), but they began researching in 2009 and they launched their first bars for wholesale in the Fall of 2011.
What should we know about the brand?
One of their mottos is "Improving the quality of life through chocolate." The vision at Ritual Chocolate is about achieving excellence. They endeavor to craft chocolate that is the ultimate expression of the exceptional terroir of their single origin cacao beans. Using vintage chocolate equipment, they blend traditional European methods with a modern American style. Ritual's passion is to revive chocolate as a luxury item that can be appreciated for its enjoyable, complex flavor—like that of a fine wine.
How are Ritual ingredients sourced?
Ritual likes to make sure that their growers are receiving compensation for their cacao that is far above the world price. They also believe in rewarding quality. Cacao has traditionally been traded as a commodity, where weight is the only factor and quality is not taken into consideration. The only way to improve quality is to reward between quality by paying more. They also try to only source from farms that practice organic methods or whom are certified organic.
Tell us about package design.
When Ritual re-designed their packaging last year, they were looking for a design that was representative of their brand. Ritual's old packaging was very nice, but it didn't communicate all of the details of their brand. They spent two years trying to communicate what their brand is all about and they were finally able to find a design company that could help them show that. Inside the packaging there are three flaps: 1. "Farm Flap" about the origin and flavor; 2. "Lifestyle Flap" about their location in the mountains of Utah; 3. "Factory Flap" - a quick shout out to their old equipment and unique process.
How can we learn more about chocolate?
Anyone who wants to learn needs to do it intentionally. Just eating fine chocolate isn't enough. Ritual recommends eating with intention. For example, if you wanted to find out how process influences the quality of a chocolate, taste 5-10 different chocolates made from the same origin, and before tasting try to write down the specific machines used to make each one. Or, if you want to see how roast affects flavor, buy chocolate of the same origin, same percentage, and same conche/refining process and then see how different the flavor of each chocolate are.
What makes Ritual's products unique?
Most of Ritual's chocolate is made up of just two ingredients: cacao and cane sugar. Their focus is on single origin dark chocolate. They choose to highlight the flavors that are a result of the terroir of the origins from which they buy. Ritual likes to say that their specialty is in finding good cacao and taking it through the best process possible—rather than being experts in recipe creation and food science, they are experts in chocolate processing. Their single origin bars are their most sophisticated products, and their Mid Mountain blend is amazing too. The Nib Bar, Novo Coffee, and Fleur de Sel bars are all great and taste good not just because of the added flavors, but because of the great chocolate that they're made with
How hands-on is Ritual's process?
For Ritual, small batch and artisan (craft) means that they are hands-on with the whole process from start to finish. This means that they make individual batches.
What is the Ritual Chocolate tour and cafe?
Their tour allows you to learn about their process from start to finish. Every tour ends with a tasting where you get to taste each of their bars in-house. Nestled in the main factory location is the Ritual cafe. All of their chocolate bars are available in the cafe, and while you sample each bar, their talented baristas strive to compliment your experience with delicious beverages.
Ingredients vs. Tasting Notes?
Ritual chocolate bars have two primary ingredients: cacao and organic cane sugar. Their packaging lists the tasting notes for each bar, not to be mistaken with the actual ingredients. Next time you taste Ritual Chocolate, think about what tasting notes you pick up.
Is Ritual Chocolate vegan and gluten free?
Yes! Ritual Chocolate is vegan and gluten free.