Sonoma Portworks

Sonoma Portworks is the only winery in Sonoma County that specializes in ports and after-dinner wines, and one of only a handful in the entire state of California. As a pioneer in the industry, they like to discover what's possible —whether that means using an unusual grape to make a port, creating unique flavor combinations in their after-dinner wines, or using secret ingredients to make their Sonomic Almost Vinegar - an elegant balsamic vinegar replacement.

Story
Bill and Caryn Reading are inventors, of a sort. They got their beginning in the wine industry, and their first creation was DECO Port with essences of dark chocolate. Bill and Caryn still make it to this day, along with other ports and dessert wines. Bill always knew chocolate and wine were meant for each other. But chocolate and wine didn't seem to think so. His attempts to marry the two into one unique after-dinner wine just didn't work. That all changed on a night 20+ years ago when he and a winemaker friend took a chance and added a dash of dark chocolate essence into a glass of port.
One sip and he knew that he'd found the perfect pairing. That's when DECO was born - a port with essences of dark chocolate. A year later, using his creative matchmaking skills, Bill created DUET, an after-dinner sherry with essences of natural hazelnut. With their unique composition and sleek packaging, DECO and DUET revolutionized the fortified wine world. Many port and sherry producers have tried to copy this formula.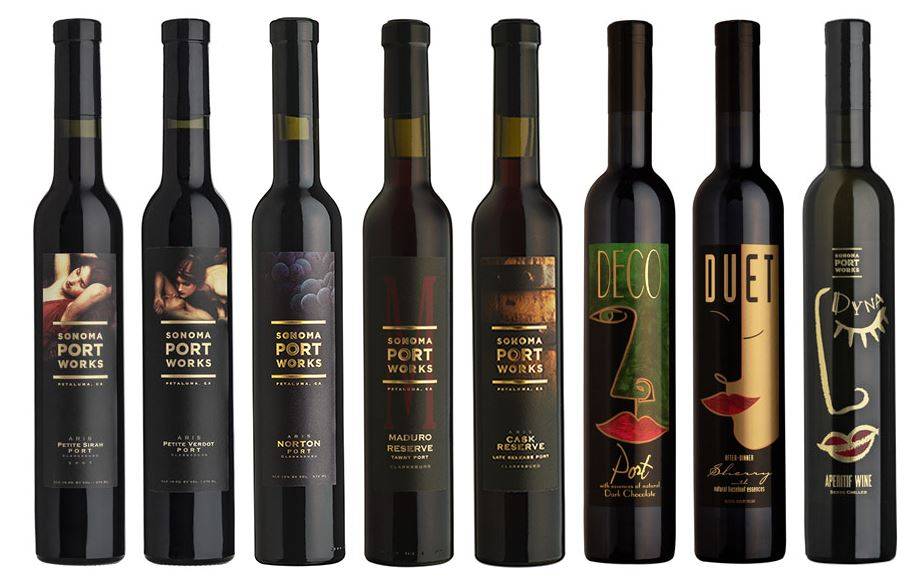 STORY (CONTINUED)
Bill's creativity extends to other drinkable delights. They now offer single vintage, single vineyard ports made from sustainably grown petite sirah and petit verdot grapes. Sonoma Portworks distills three distinctive grappas from the pomace left from portmaking and recently introduced DYNA, a refreshing Chardonnay-based aperitif.
From the beginning, Caryn has worked alongside Bill. Her culinary skills and palate are the perfect match for Bill's unique approach. You'll often find her in the Portworks tasting room chatting with port lovers and first-time tasters about the pleasures of pairing port with cheese, desserts and other after-dinner creations.
 
Bill and Caryn also like to play with grapes, and all the different things you can make with them. So, a non-alcoholic food product seemed a like a good idea. They started with Sonomic Red Almost Vinegar, made with Cabernet grapes, and when Bill and Caryn had one version that people really liked, they decided to make a second version - Sonomic Gold.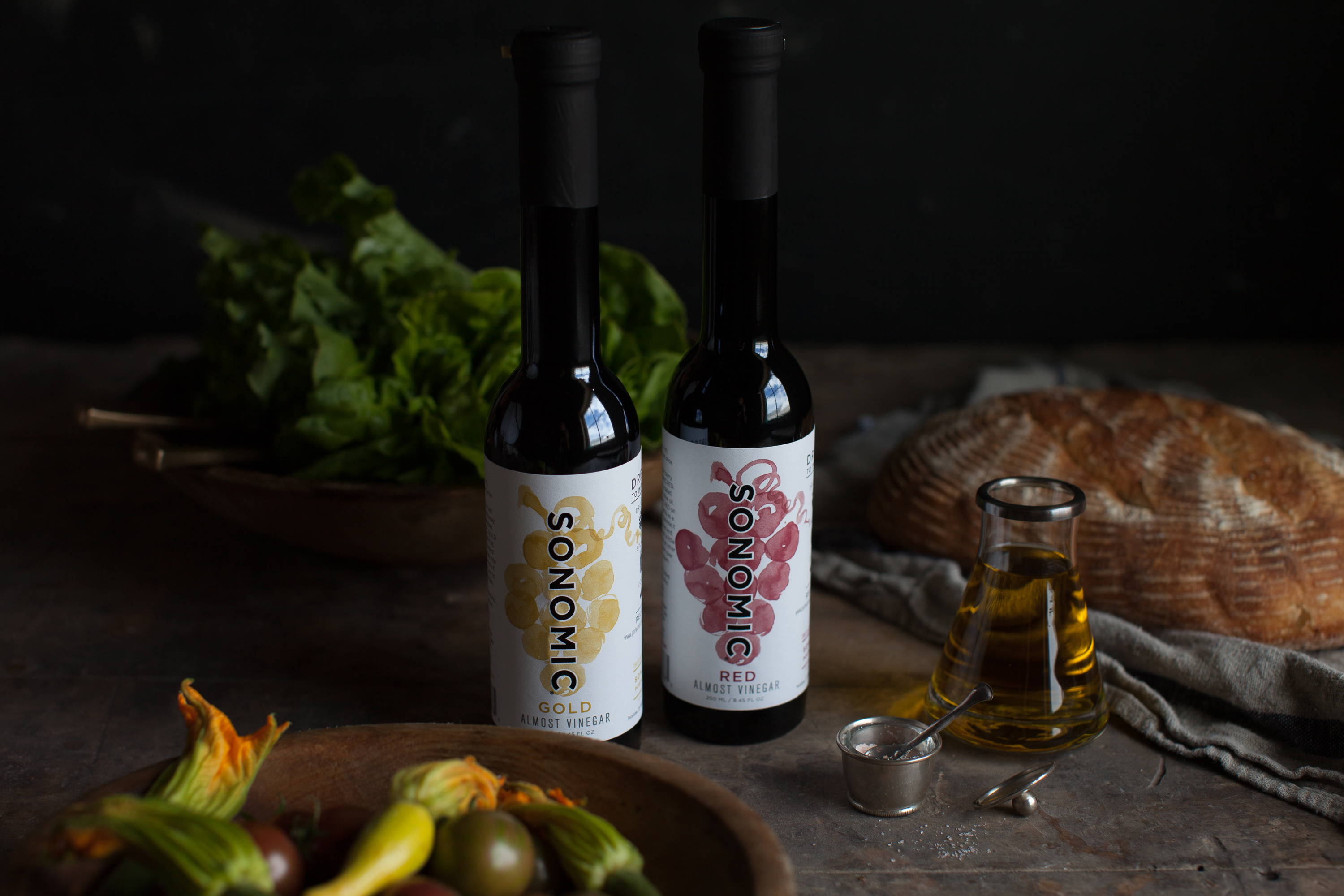 SONOMIC ALMOST VINEGAR
Sweet, tart, rich, refreshing, simple, and elegant all at once. Made with Muscat and Cabernet Sauvignon grapes, it's like nothing you've tasted before. Sonoma Portworks keeps this exclusive recipe under wraps.

But the secret is your secret ingredient. Just a sprinkle elevates salad to an impressive culinary treat. A drizzle turns grilled meat into a four-star meal. A splash or two makes club soda into a sophisticated sipper. Sonomic is less acidic than vinegar and richer than balsamic. It's the secret ingredient that will revolutionize everything from your fruits and veggies to your desserts and drinks.
Less acid, and no added sugar. Sonomic is not like anything you've ever tasted before - use it as a shrub, or even over ice cream. You're only limited by your imagination.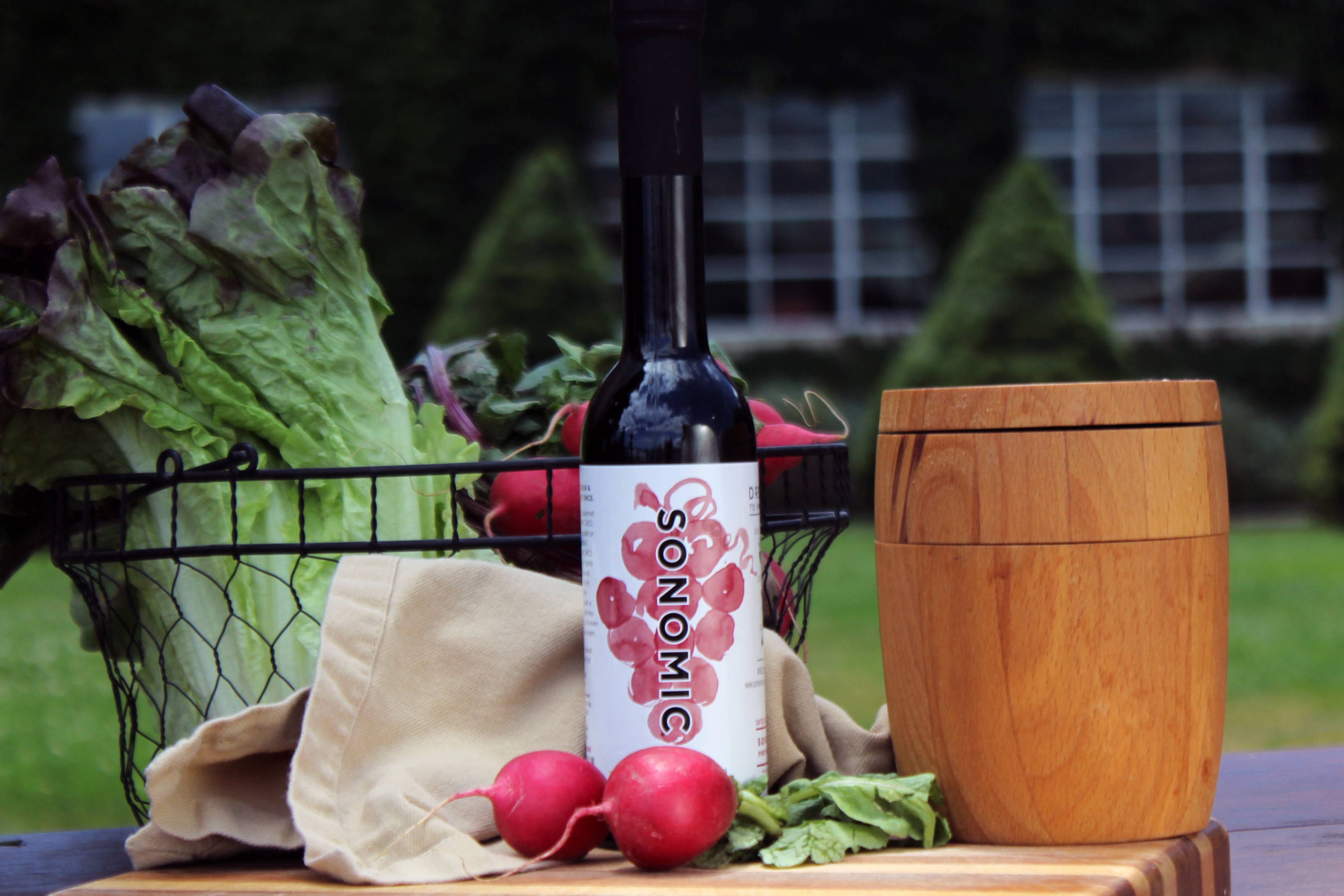 Made with love by hand (and foot)
Sonoma Portworks certified organic and sustainable petite sirah and petite verdot grapes are harvested by hand from the Heringer Family vineyards in Clarksburg, CA. The Heringers have proudly worked their vineyard land for five generations.
Instead of using a propane forklift, Sonoma Portworks moves the bins in their cellar using a hand-powered pallet jack. They then use five-gallon buckets to move the must through the portmaking process by hand. Using a handmade press specially designed for them, they press the grapes by foot for their award-winning ports and after-dinner wines, and age them in recycled barrels.
The pomace left after pressing is distilled into Sonoma Portworks grappas at Stillwater Spirits next door. Whatever remains after distillation is recycled back into the vineyard.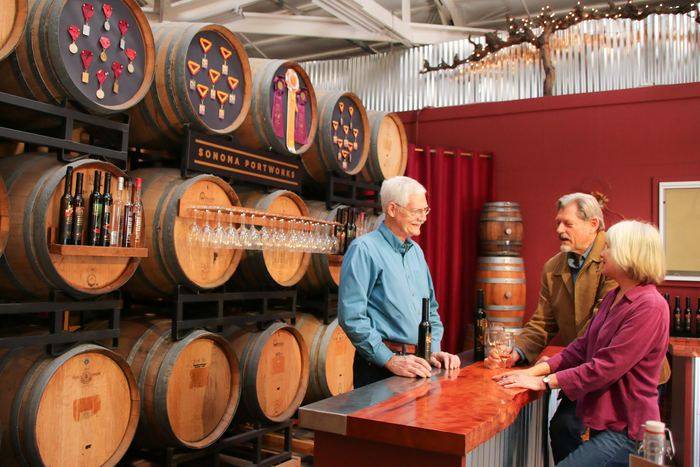 Tasting Room
613 2nd Street
Petaluma, CA 94952
707-769-5203

The Sonoma Portworks tasting room and offices are located in the old Foundry Wharf building along the Petaluma River just south of the historic city center of Petaluma.
Open Noon to 5 pm, Thursday through Monday.
Closed Tuesday and Wednesday.